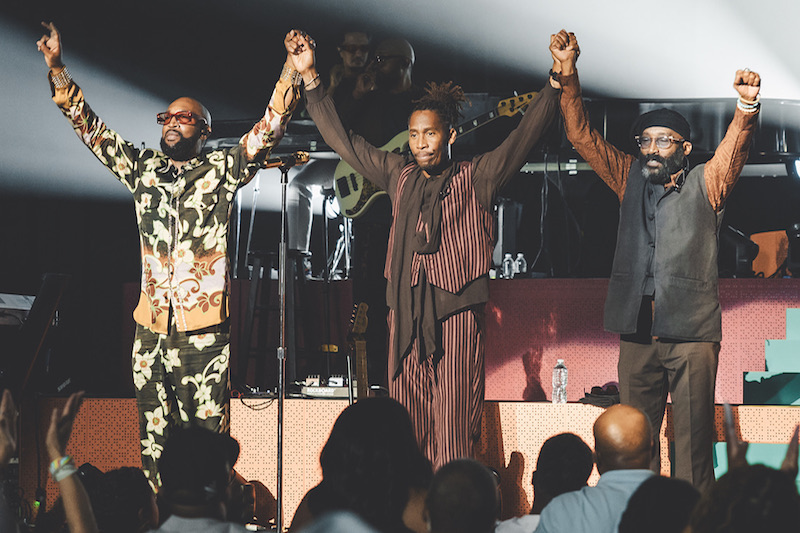 Tony! Toni! Toné! shocked fans earlier this year with their announcement that original group members Raphael Saadiq, D'Wayne Wiggins and Timothy Christian Riley had decided to come back together for a reunion tour after over 25 years apart. In the months since that jaw-dropping surprise, their legion of dedicated fans have patiently awaited the arrival of Raphael Saadiq Revisits Tony! Toni! Toné!: Just Me And You Tour 2023. Now that the tour is fully underway, the beloved trio is showing up and showing out across the country and leaving concertgoers – many of whom are seeing the original lineup perform live for the first time – astounded. Part reunion, part revival, the Just Me And You Tour is a masterclass in Black music excellence, impeccable artistry and lifelong dedication to craft.
We had the privilege of catching them in Baltimore at The Lyric Baltimore, and the Tonyies brought Oakland with them. The concert began with a video montage of photographs of other famous folks from their hometown projected onto the wall behind the band comprised of all-stars Keyon Harrold, Kenneth Whalum, Isaiah Sharkey, Josh Dunham, Ernest Tucker and Daru Jones. The video voiceover said, "This is more than a show. This is the life of D'Wayne Wiggins, Timothy Christian Riley and Raphael Saadiq," which was met with loud applause that only got louder as D'Wayne, Timothy and Raphael made their grand entrance from the rear of the stage.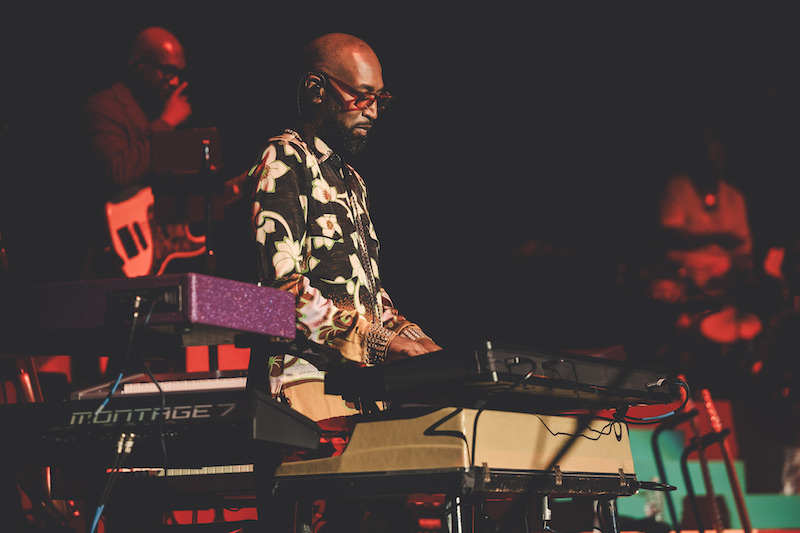 Timothy took his seat at the keys, D'Wayne picked up one of his guitars and adorned it with a lit stick of incense and Saadiq took his place center stage. They got right down to Town business launching into "Tonyies! In The Wrong Key," the album cut from 1993's Sons Of Soul with a wink and a nod to Sly Stone's "Family Affair," keeping that Oakland energy high. They smoothly segued from that funky number into the classic slow jam "It Never Rains (In Southern California)," which elicited a huge reaction from the audience with most on their feet to sing along with Raphael.
The Tonyies took everyone even deeper into their catalog to their debut album Who? next. It felt like we were in a time machine transported back to 1988 hearing "Baby Doll," "For The Love Of You," "Little Walter" – which included a "Wade In The Water" a cappella intro – and "Born Not To Know" performed back to back with fervor.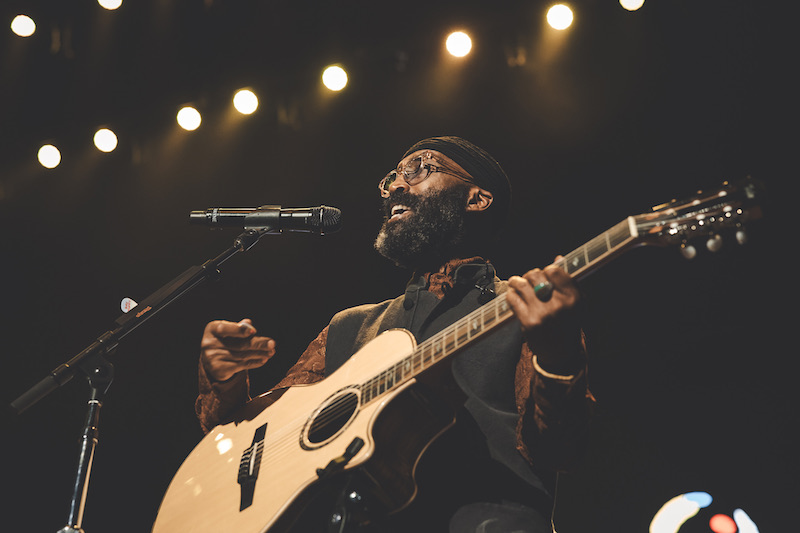 Brothers Saadiq and Wiggins broke out into a quick two-step routine and kept it moving back to Sons Of Soul. They treated concertgoers to "If I Had No Loot," "I Couldn't Keep It To Myself" and "My Ex-Girlfriend," which was still hilarious and still petty. After holding down lead vocals on about a dozen songs, Raphael then passed the mic to D'Wayne as he exited the stage. The audience went bananas when the guitar intro to "Whatever You Want" played, and D'Wayne started singing. He followed with "Slow Wine" and "Til Last Summer" and basked in the love that screaming fans showered on him.
After Wiggins set it off during his featured segment, Saadiq returned to the stage rejuvenated. He hit adoring fans with "Lovin' You," "Thinking Of You" and "(Lay Your Head On My) Pillow," which elicited one of the biggest reactions of the night and massive crowd participation. A 10-minute intermission did little to calm the audience down when the Tonyies came back to the stage to perform songs from Raphael's solo work.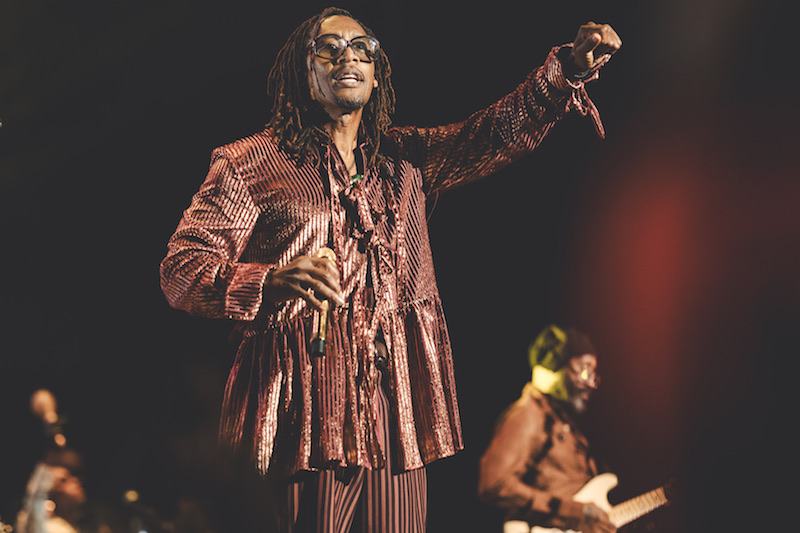 At this point in the show, Saadiq was in his bag. He jumped around his songbook from "Get Involved" to Instant Vintage's "Still Ray" and "Be Here" – where he sang both his and D'Angelo's verses – to "Ask Of You" and dipped into a little Lucy Pearl with "Dance Tonight" and "Good Love." For "Dance Tonight," American Idol alumna LaToya London stepped from beside fellow background vocalists Shannon "Sangindiva" Pearson and BJ Kemp and into the spotlight to sing Dawn Robinson's parts.
The Tonyies paid brief tribute to deceased filmmaker John Singleton with a video of him on set directing and speaking before circling back to their catalog with the song "Me And You" from the Boyz N The Hood soundtrack. What followed was a hit parade to close the show with the fellas getting everyone on their feet for the remainder of the night with their classics "Anniversary," "Let's Get Down" and "Feels Good."
- Advertisement -
After more than two hours of this thoroughly entertaining, career-spanning show, Tony! Toni! Toné! exited the stage to deafening applause, screams and shouts. No one wanted the show to end, but Raphael Saadiq, D'Wayne Wiggins and Timothy Christian Riley gave us everything we didn't know we needed and owed us nothing. This reunion tour and all of the attention and love that the group has been receiving have us optimistic that this won't be the last time we'll see them together on stage.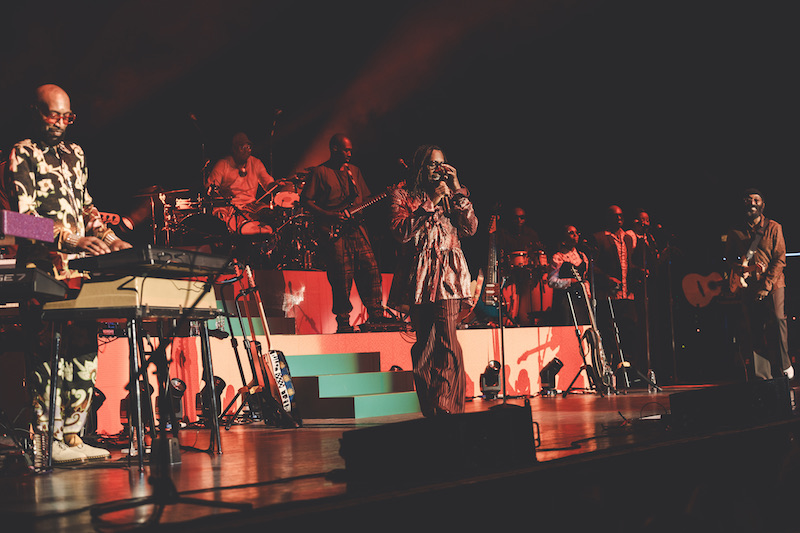 - Advertisement -