It feels good to be a Tony! Toni! Toné! fan right now. After breaking the Internet back in March with the stunning news that group members Raphael Saadiq, D'Wayne Wiggins and Timothy Christian Riley had reunited and had a tour on the horizon, we now have those tour dates to add to our calendar. Tony! Toni! Toné! has made the official announcement that Raphael Saadiq Revisits Tony! Toni! Toné!: Just Me And You Tour 2023 is on and popping this autumn.
The Just Me And You Tour 2023 will take Tony! Toni! Toné! across the United States from coast to coast starting in September. Everything jumps off in Birmingham, Alabama on September 21st before hitting a number of major cities. Included on the list are Charlotte, Baltimore, New York City, Boston, Nashville, Chicago, Detroit, Jacksonville, Atlanta, New Orleans, Dallas and Los Angeles, to name a few of the 25 cities the tour will stop in.
The beloved Bay Area trio will wrap their reunion tour up with a twin set of shows back at home. They'll appear on November 14th in Oakland at Paramount Theatre before taking their final bow on November 17th in San Francisco at The Masonic. It was important for the group to bring this tour full circle to where it all began for them.
"I've always wanted to put my family back together," Raphael Saadiq stated in a press release. "Playing with the Tonys again is a thank you to the fans, the Super Tonians, for supporting all my musical efforts. Without those who were with us from Day One, where would I be? But the main reason is that my father, Charlie Wiggins, would've wanted it this way – to see me, D'Wayne and Tim playing together again."
The Just Me And You Tour 2023 will be a family reunion for the Tonys and for their fans who will get the opportunity to see the original group together on stage for the first time in over two decades. Attendees can look forward to hearing songs from Tony! Toni! Toné!'s catalog of classics and brand-new music from the fellas as well as tracks from Raphael Saadiq's songbook of his own hits and those he's written and produced for D'Angelo, Solange, Beyoncé, Daniel Caesar and Brent Faiyaz.
If you're as excited about the Raphael Saadiq Revisits Tony! Toni! Toné!: Just Me And You Tour 2023 as we are, then you'll be happy to know that tickets go on sale this week. On Wednesday, June 21st, there will be the artist presale on both Raphael Saadiq's website and Tony! Toni! Toné!'s website and a special Citicard presale for cardholders. On Thursday, June 22nd, Live Nation and Spotify presales will take place. Finally, on Friday, June 23rd, all remaining tickets will go on sale to the general public. All ticket sales start at 10 a.m. local time.
Get your coins and credit cards ready because Raphael Saadiq Revisits Tony! Toni! Toné!: Just Me And You Tour 2023 is one tour that is not to be missed. View all of the tour dates below and prepare to welcome these Sons Of Soul and Kings of R&B back.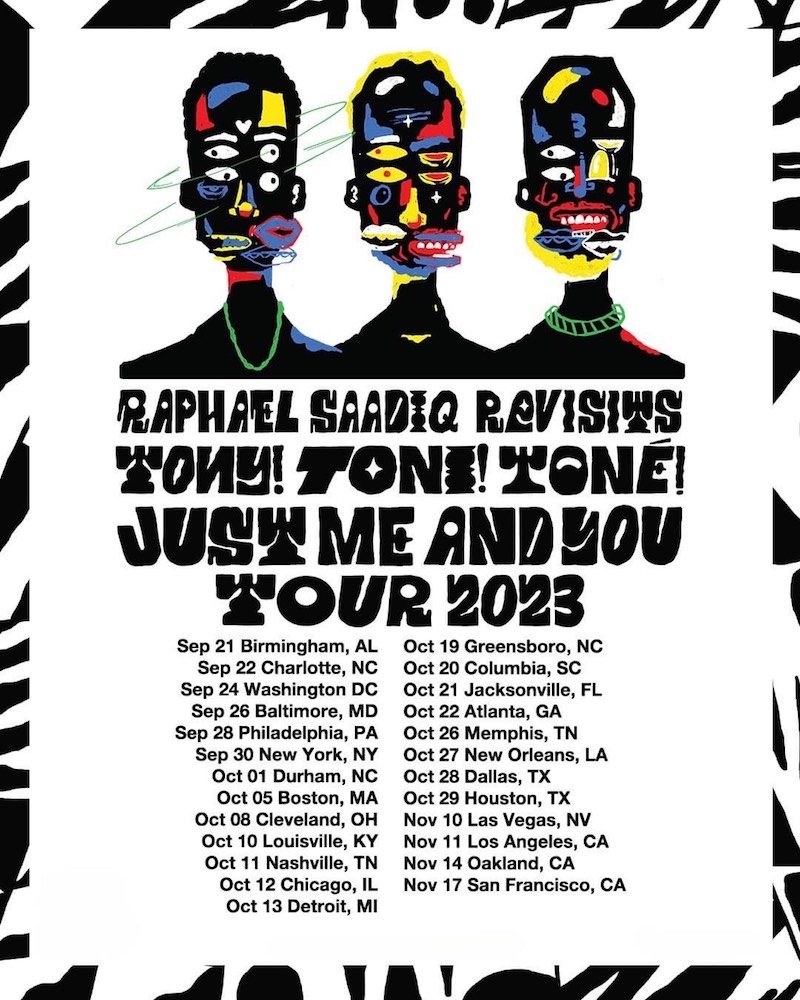 - Advertisement -
Raphael Saadiq Revisits Tony! Toni! Toné!: Just Me And You Tour 2023 Dates:

SEP 21, 2023 – Birmingham Jefferson Convention Complex – Birmingham, AL
SEP 22, 2023 – Ovens Auditorium – Charlotte, NC
SEP 24, 2023 – MGM National Harbor Hotel & Casino – Oxon Hill, MD
SEP 26, 2023 – The Lyric Baltimore – Baltimore, MD
SEP 28, 2023 – The Met – Philadelphia, PA
SEP 30, 2023 – Radio City Music Hall – New York, NY
OCT 1, 2023 – Durham Performing Arts Center – Durham, NC
OCT 5, 2023 – Orpheum Theatre – Boston, MA
OCT 8, 2023 – KeyBank State Theatre – Cleveland, OH
OCT 10, 2023 – Louisville Palace Theatre – Louisville, KY
OCT 11, 2023 – Ryman Auditorium – Nashville, TN
OCT 12, 2023 – The Chicago Theatre – Chicago, IL
OCT 13, 2023 – Fox Theatre – Detroit, MI
OCT 19, 2023 – Steven Tanger Center for the Performing Arts – Greensboro, NC
OCT 20, 2023 – Township Auditorium – Columbia, SC
OCT 21, 2023 – Moran Theater – Jacksonville, FL
OCT 22, 2023 – Fox Theatre – Atlanta, GA
OCT 26, 2023 – Orpheum Theatre – Memphis, TN
OCT 27, 2023 – Orpheum Theater – New Orleans, LA
OCT 28, 2023 – Music Hall at Fair Park – Dallas, TX
OCT 29, 2023 – Smart Financial Centre at Sugar Land – Houston, TX
NOV 10, 2023 – The Pearl Concert Theater – Las Vegas, NV
NOV 11, 2023 – YouTube Theater – Los Angeles, CA
NOV 14, 2023 – Paramount Theatre – Oakland, CA
NOV 17, 2023 – The Masonic – San Francisco, CA
- Advertisement -