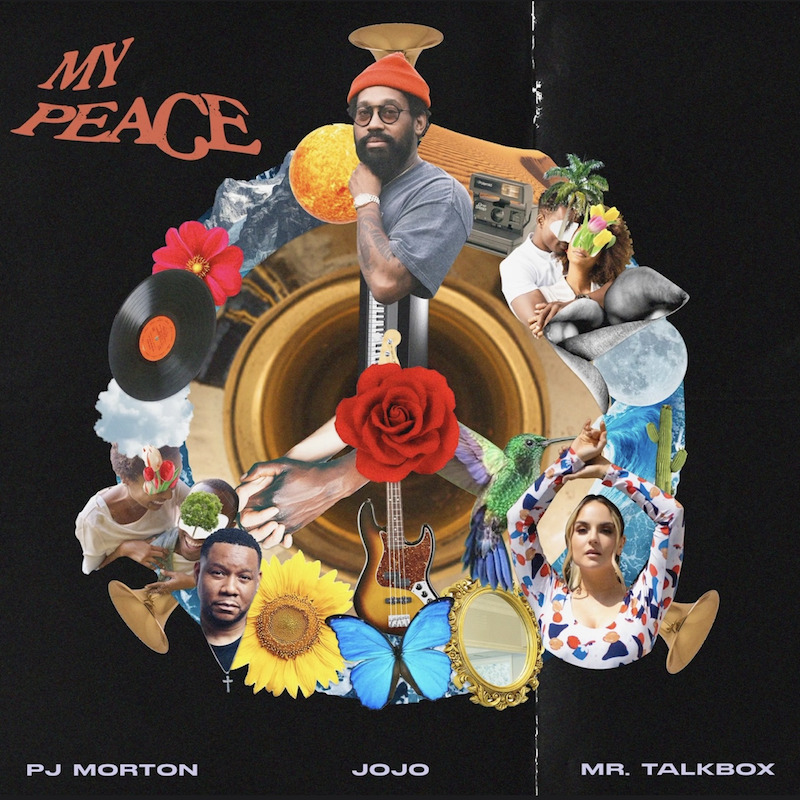 Three years ago this week, PJ Morton and JoJo released their duet "Say So" on Valentine's Day 2019. It was love and first listen for us, and the song would go on to become an instant classic and GRAMMY Award-winning hit. PJ and JoJo are hoping that lightning strikes twice with their latest single, the groovy duet and new self-care anthem "My Peace" featuring Mr. Talkbox.
PJ and JoJo are all about radical self-care on "My Peace." They are sick and tired of being sick tired dealing with other people's stuff, and they keep it real on their quest to focus on themselves and their needs. "Gotta be all about me before I'm all about you / If I don't take care of me I'm no good to you," they sing in unison on the pre-chorus. They go on to share, "So if you're not adding to my high / I'm going to have to tell you goodbye," and cutting someone off in the name of self-preservation never sounded so sweet.
These two are unapologetic about protecting their peace on "My Peace," and the song is one that many can relate to. That was all in PJ's plan. He shared via press release, "I wanted to write a song that was a duet and gave two perspectives but wasn't necessarily about a relationship. I think after going through so much these last couple of years, many people really got down to what's truly important. And most realized that nothing is worth their peace."
Fans have been watching Morton craft this song on TikTok and across his socials since December. We've seen the track evolve from a piano ballad to PJ adding a beat and beefing up the pre-chorus to give "a real Mint Condition vibe." Then he invited JoJo to give a woman's perspective and lastly added some electronic flourishes from Mr. Talkbox and the classic horns from Outkast's "SpottieOttieDopaliscious" into the mix. These brief videos of PJ's creative process have been exciting to see the artist making his art.
"My Peace" is the most recent single from PJ Morton who is putting the finishing touches on his next album Watch The Sun. He finally released the Ready To Love theme song in full last month and is still promoting his contrite love song "Please Don't Walk Away." As for JoJo, "My Peace" is on-brand for the singer who most recently shared her mental health struggles with the public on her EP trying not to think about it.
Ironically, "Please Don't Walk Away" and trying not to think about it were released on the same day last year. We don't know if that was just a mere coincidence or a matter of just how in sync these two artists are. One thing we know for sure, though, is that PJ Morton and JoJo just need to go ahead and record an album together already. The people and the culture need it.
While we wait for that item on our music wishlist to be fulfilled, we'll have "My Peace" on repeat and be singing along to all the words thanks to the lyric video featuring animation by Brik.Liam (who also designed the single cover). PJ is hoping that his fans know all the words to "My Peace" and can sing along with him this March on his My Peace Tour.
- Advertisement -
PJ Morton's My Peace Tour has six dates scheduled on its first leg, which will begin in Birmingham, Alabama on March 11th. The tour will take PJ to a few different Southern cities as he gets back on the road after being sidelined during much of the pandemic. He will also perform at the return of the New Orleans Jazz & Heritage Festival on April 29th. Make plans to see the Live Show Killer do what he does best when you visit PJ Morton's website to purchase tickets to this tour. Scroll down to see his tour dates after you listen to the new single and watch its lyric video below.
- Advertisement -