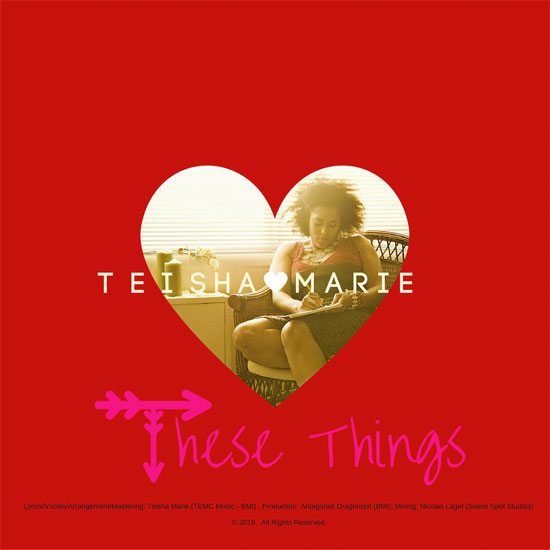 The single life has its merits, but sometimes you just want to be booed up and in a loving, lasting relationship. That yearning for something more with someone worth the time and energy is the underlying sentiment behind Teisha Marie's newest single, "These Things." The Bounce-Worthy, DMV-based songstress is back with her first new song since the release of her 2013 album, The Girl From Nowhere, and she sings what many single women feel.
Produced by C. "Antagonist Dragonspit" LeCount, Teisha sweetly spells out her desire to have "a dance partner in the rhythm of life" over synths and a steady drum beat. She makes it clear that this isn't about getting married (since the M-word seems to scare so many men off), but instead she wants someone there for who's down for her. She's patient and prays to God that she'll meet the elusive "One," but this isn't a melancholy song like Jill Scott's "I Wanna Be Loved." Teisha Marie is hopeful and ready for the next phase of life.
"'These Things' is expressing where I am in my life as a single woman," Teisha shares. "Sometimes what you need is what you want and sometimes you have to say what you want out loud." Amen to that, sister. As a single woman myself who is ready to be coupled up, this song is totally relatable. If Teisha Marie is speaking to your heart and singing your truth as well, then you can add this song to your personal soundtrack via a free (or name-your-price) download from Bandcamp.