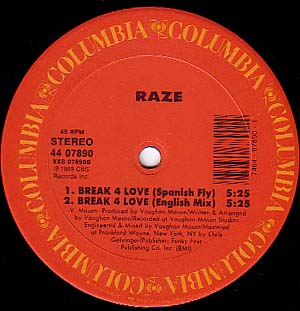 "Break 4 Love" by Raze is hands down one of the sexiest house songs ever. Ever. And is it any wonder with one of numerous mixes subtitled "Drop the Panties"? Yeah, the song is like that and like that.
This track from the post-disco, late 80's golden era of house music was sung by a group of musicians assembled by Vaughn Mason of "Bounce, Rock, Skate, Roll" fame. Mason produced the song, house legend Keith Thompson laid the vocals and it was released under the name Raze in 1987. Sure, they were one-hit wonders but what a hit it was.
Any DJ worth his salt will pull this up on the Serato Scratch LIVE when spinning a throwback house set. Because "Break 4 Love" is one of those songs that when the beat drops in you can't not move. And when the sounds of orgasmic bliss come through the speakers, it's a wrap. Not to get all When Harry Met Sally on y'all, but I'll have what she's having. And make it a double.

"Break 4 Love (English Mix)"


"Break 4 Love (Spanish Fly Mix)"


For a complete history of "Break 4 Love" visit the website dedicated to the song.
- Advertisement -