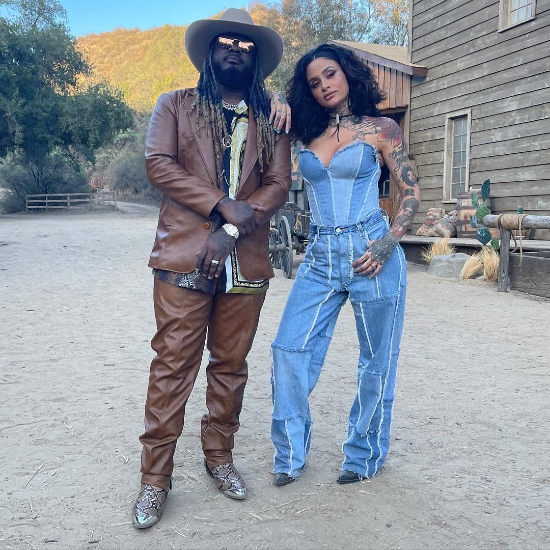 No matter what Usher or any of the people who said that he ruined music have to say, T-Pain is a legend in the hip hop/R&B game. The rapper turnt sanga has kept the hits coming and popularized Auto-Tune, with people such as Usher and many others profiting from his influence. Despite all the hateration in his dancerie, Teddy Pain is still out here making music and moving feet. He recently released the new single "I Like Dat" featuring Kehlani and now the pair have shared a video for their duet.
Inspired by Michael Jackson and Paul McCartney's "Say Say Say" visual, the video for "I Like Dat" is a Western throwback, starring T-Pain as a snake oil salesman. As he stands on his soapbox hawking his magical "Drank," Kehlani grabs a bottle, takes a sip and is immediately greeted by the lips of another woman. Seeing this spectacle, the crowd reaches into their pockets and pulls out their money to get a taste. The scene then takes us inside a saloon where Kehlani is performing and everyone is gone off that liquor. We won't give away the ending, but if you've watched enough Westerns, you probably have a good idea how this one is gonna end.
In addition to releasing "I Like Dat," T-Pain is also featured in the Netflix documentary, This Is Pop, which explores popular music through the ages. While not an exploration of his career, Tallahassee Pain gets candid about his career and shared how Usher saying he ruined music for real singers was the start of a deep depression for him. He eventually shook that funk off and later expressed that he had no animosity towards the "OMG" singer. Peep Netflix to watch the doc right after you watch the "I Like Dat" video right here.