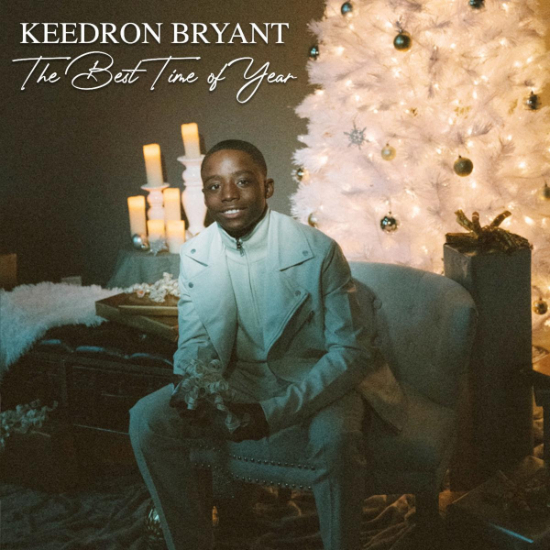 Teen singer/activist and viral sensation Keedron Bryant has had quite a whirlwind year. In the span of a few months, he's gone from relative obscurity to a courageous agent of change. The successful impact of his song "I Just Wanna Live" (written by his mom Johnnetta Bryant) has led to several high-profile appearances and collaborations on projects like The Undefeated's I Can't Breathe/Music For the Movement and The Social Change Fund's all-star single, "Change." Now he temporarily shifts gears to gift us with a little something for the holidays – his new EP The Best Time Of Year.
Produced by Dem Jointz, the four-track collection is an enjoyable treat for the upcoming season. Backed by pop band Undecided Future, Keedron warms the heart and shows off his impressive vocal range on The Jackson 5 classic "Give Love On Christmas Day." It's clear that talent runs deep in the Bryant family as his sister Aiyanna Bryant joins him for an update of Boyz II Men's hit "Let It Snow." The singer delights our ears and entices us to move by adding a little bounce to Paul McCartney's "Wonderful Christmas Time." Though we're loving these festive remakes, the highlight of the album is an original song entitled "This Year." The celebratory tune looks ahead to 2021 with hopeful excitement and positive vibes, plus it's a bop.
In addition to the EP, Keedron continues to shine a light on the ongoing struggle for justice and equality with visuals for "Talk About It." A standout track from his I Just Wanna Live EP, the song emphasizes the need for open communication, along with actionable steps towards unity. The video is simple but effective, using protest footage as a backdrop for Keedron's earnest plea. With an infectious fusion of vintage funk, modern soul and head-nod-inducing beats, the song isn't just a powerful message, it's a whole vibe.
At just 13 years old, Keedron Bryant is doing his part to make the world a brighter place. No wonder he's a finalist for Nickelodeon and Time Magazine's 2020 Kid of The Year. Let's keep the support going for this young king by downloading a copy of both The Best Time Of Year and I Just Wanna Live.
- Advertisement -