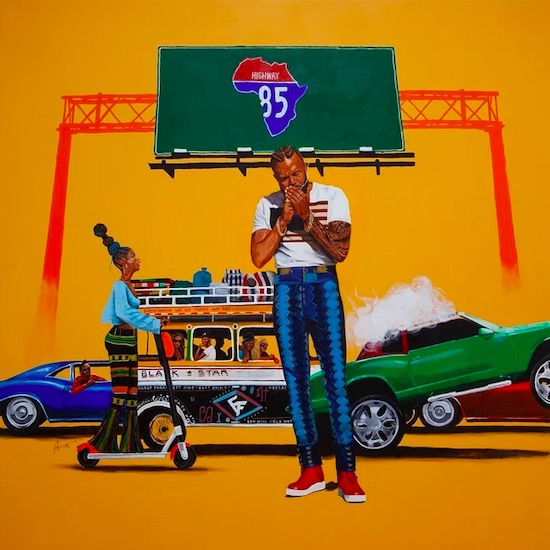 If trap music and Afrobeats were have to have a baby, that baby would manifest itself in the form of Jidenna's sophomore album, 85 To Africa. While we always knew that the Wondaland-signed rapper had spent part of his youth in his dad's native Nigeria, he embraces his roots more than ever in his new music, resulting in a fun, rhythmic journey through the duality of being raised in two different cultures.
The album kicks off with the Seun Kuti-assisted "Worth the Weight," a bass-heavy intro that instantly lets fans in where the Classic Man is coming from. From there, he takes listeners on a 40-minute journey where he seamlessly unites Atlanta with the Motherland. Fans of the braggadocio vibes brought forth on his 2017 debut The Chief will be pleased to find that he's still just as good the second time around, as evidenced on the album's title track. Punctuated by blaring horns, Jidenna's charisma seeps through as he boasts packing up and heading back to Africa after he found himself evicted from his Atlanta home. While most people would be weakened by such an experience, for Jidenna, it seemed to only light a fire under him to come back better than ever.
He teams up with GoldLink on the equally banging "Babouche," the two tag-teaming back and forth with rapid-fire energy. Previously released singles like "Sufi Woman," "Sou Sou," "Tribe," and "Zodi" featuring Mr. Eazi keep the energy going as he takes listeners along for the ride.
Jidenna closes out on a somber note with "The Other Half," where he is joined by Mereba and labelmates St. Beauty. Here he ponders his place in the world while searching for his better half while also speaking on the effects of toxic masculinity. For his follow-up, Jidenna continues to expand his sound, working hard to bring the dual sides of himself together as one while having a little fun along the way.
Jidenna 85 To Africa [Amazon][Apple Music][Google Play]
- Advertisement -