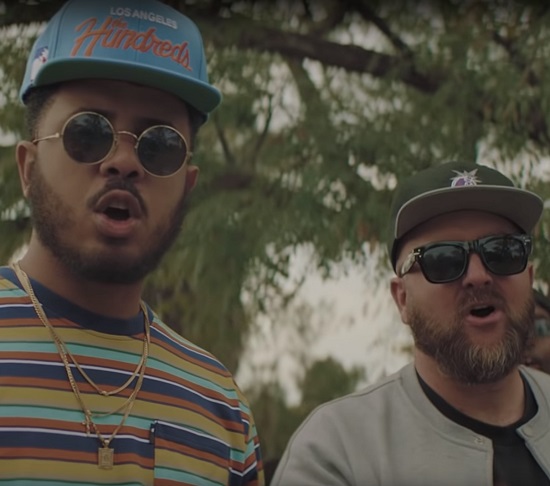 Being the music lovers that we are, every so often, we find ourselves debating "what the game's been missing." However, our playlists have been saturated with all types of good music lately – so it's not a "what" that's been missing, but more so a "who." And when it comes to West Coast innovators, we've been missing Blu & Exile for quite some time now. Sure, they enjoyed a brief 2017 reunion to celebrate the 10-year anniversary of their cult classic Below the Heavens, dropping b-sides project In The Beginning: Before The Heavens and going on tour. Plus, they've each been busy with separate projects and other collaborations. But we weren't sure when or if we'd ever get some official newness from the duo.
All questions were laid to rest when they surprised us with the May release of their EP True & Livin'. The project centers around 3 tracks, but extends our listening enjoyment by including the instrumentals as well. Now, they've taken it a step further by dropping a dope Matt Henkes-directed visual for the title track. Alternating between grayscale and living color, we see scenes of Exile working his magic on the ones and twos, Blu waxing poetic in a field of flowers, citizens protesting and friends having a good time laughing and dancing. Particularly poignant is a cemetery scene where Blu seemingly transcends time and space to help squash a beef that was about to turn deadly.
The concept is as intentional as the song itself, as Exile explains, "True & Livin' feels like a spiritual call to all that have honor and truth in their being. It sees how present day and beyond is always trying to calculate or monetize what comes from God or what comes from an artist's spirit, but it also recognizes the truth that is inside of Blu and Exile's music and brags about it, even in a humble way somehow. This might be the first hip-hop braggadocio song that invites us all to feel the same about themselves as long as they connect to the spirit and truth that is inside this song and inside us all."
Peep the video for "True & Livin'" below and grab a copy of the True & Livin' EP – which also features Choosey, Johaz, Cashus King, Aloe Blacc, Fashawn and Blame One – if you haven't already done so. For those that missed their May/June mini-tour, don't worry, Exile has hinted that more new music is on the way. Be sure to follow the Dirty Science crew for updates.