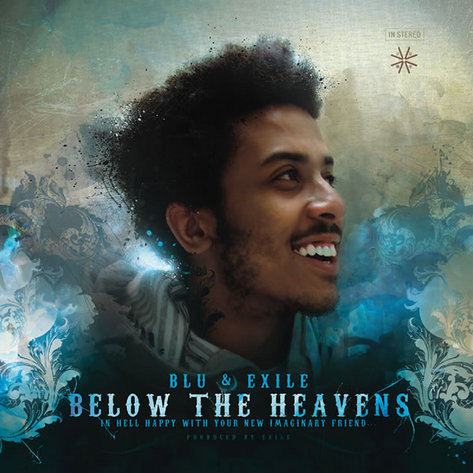 While most of us were consumed by the Kanye West/50 Cent "Megalomania Campaign 2007", there was a respectable segment of us that copped Blu & Exile's Below the Heavens. I'll have to admit I'm a little late to the party on this one, but had somewhat of a primer courtesy of House Shoes and MDOC. I'm not good at reviews, especially with artists I'm not versed in, but here goes.
In short, the last time I was this impressed it was with Black Milk's Popular Demand. The lazy thing to do is to go on and on about Exile's soul-infused beats, which would place him somewhere in Black's orbit. And that's exactly what I'm going to do. Where Black often opts for the sped-up, choppy variety of sampling, Exile flips it Pete Rock-style for the most part, keeping it jazzy, layered and sometimes gritty. The standout track here (and my first introduction to the duo) is "Greater Love", in which Blu elevates the tired theme of "ghetto love" to poetic, authentic heights, managing to embrace his subject's flaws and all with the kind of panache reserved for R&B artists from back in the day. No wonder he often compares himself to Al Green. Exile's execution here is un-eff-wittable, constructing a moody, blue, yet somehow optimistic backdrop that successfully compliments Blu's delivery.
Blu & Exile: "Greater Love (snippet)"


Blu's not the West-based rapper we're used to. While he possesses the "everyman" relatability of Kanye, and the consciousness of Black Thought, he still manages to come out swinging in tracks like the hook-free "Soul Risin", with lines like "It's unbearable, these stereo rap tracks are terrible / I'm here to take care of you wack cats / and bury you back at wherever you came from / I'm carrying this game on my back 'til the pain's numb." The mainstream would call this "swagger." I call it "talent."
Blu & Exile: "Soul Risin (snippet)"


Another favorite is "Below the Heavens (Pt. 1)" where Blu infuses Exile's triumphant, anthemic track with a look back on his upbringing, the religious values instilled in him at a young age and how he's sought to reconcile it all with the life he's lived. This is no simple feat for any lyricist and he pulls it off without sounding lame or preachy. It's an empowering head-nodder that evokes much of the same feeling as Kweli's "Get By."
Blu & Exile: "Below the Heavens (Pt.1) (snippet)":


- Advertisement -
The key to Blu's delivery might just be his honesty, how he's humble and unpretentious but still authoritive. His voice is crystal clear and the vocab isn't weighed down with the kind of references and slang that would have the casual Hip-Hop listener scratching his head. Below the Heavens is the kind of honest, soulful, polished Hip-Hop album everyone needs to embrace. I've been listening to it all day.
Below the Heavens [Official] | Below the Heavens [iTunes]
Blu [Myspace] | "Soul Amazin'" [Youtube]
- Advertisement -
- Advertisement -