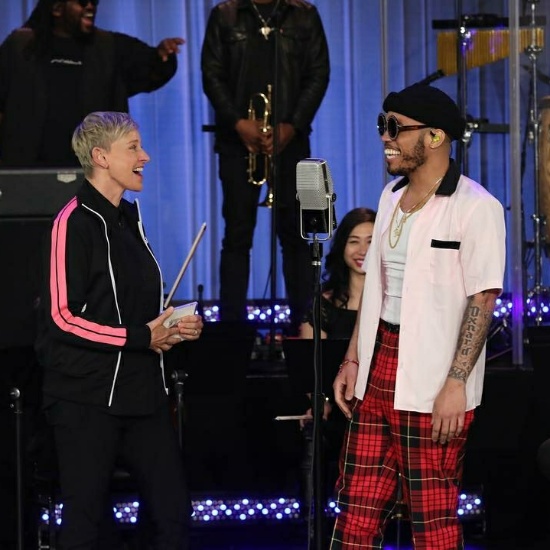 It's getting hard to keep up with Anderson .Paak, and his next tour hasn't even started yet! But as we count down the days until his Best Teef In The Game Tour begins in a few weeks, he is heavy on the Ventura promo trail, which today found him on The Ellen DeGeneres Show to perform current single "Make It Better."
Andy's "Make It Better" duet partner Smokey Robinson didn't join him on Ellen's stage, but his band The Free Nationals backed him up alongside Miguel Atwood-Ferguson leading a string quartet, trumpeter Maurice Brown and a trio of background singers who looked straight off the set of Robert Palmer's "Addicted To Love" video. Everyone held it down on the soulful love song, but Anderson was most impressive as he crooned live and delivered a pretty perfect performance.
Ellen DeGeneres, who prior to his performance introduced Anderson as one of her favorite artists, bumrushed the stage once he was done to give him a hearty hug. After they hugged it out, .Paak presented Ellen with a basket of goodies that included some merch and a yellow Yes Lawd! durag that he took the liberty to tie onto her head. It was quite a hilarious look on the talk show host who ended the segment by giving all her audience members a pair of tickets each to attend Anderson's just-added show at The Forum in L.A. on June 29th. You can join Ellen's audience and Anderson .Paak fans across North America at the Best Teef In The Game Tour when it commences on May 17th.