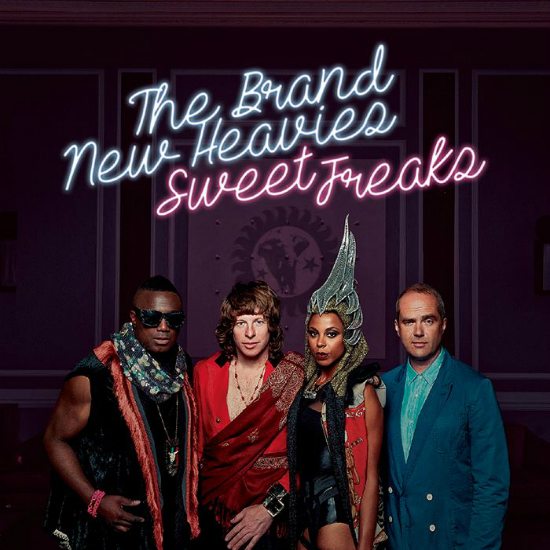 The Brand New Heavies occupy a unique spot in British music, plowing the same lonely furrow, with the odd foray into electro and contemporary R&B excepted, since 1985. Traditionally they also like to take their time, crafting their own take on '70s soul and funk with splashes of acid jazz for their fans. Their newest album, Sweet Freaks, marks a change in that modus operandi as relatively little time has passed since their last album, Forward, dropped in May 2013. That intervening period has also seen the revolving door of lead vocalists spin out another in the long line of illustrious singers to front this funk-tastic band. Following in the footsteps of glorious alumni such as N'Dea Davenport, Carleen Anderson and Siedah Garrett comes Dawn Joseph, a Brit songstress with high stilettos to fill.
Lead single "Sweet Freeek" sets the ball rolling with a slice of Chic-inspired funk, all bubbling bass, punchy brass and scratchy guitar. Lyrically it's a paean to that perfect partner who's a mix of the sacred and the profane. Vocally it is relatively straightforward, but with enough to hint that there may be more to come. And the groove? Well, it could go for days.
A Hammond organ leads the way on the second track, a funkdafied cover of Peter Gabriel's "Sledgehammer." Whether you think it's retro or old school, what is undeniable is the solid commitment to the fundamentals of funked up soul music. Tight, funky and beautifully crafted, it sails on a wave of the aforementioned organ and the exceptional rhythm section. It's unrelenting in its drive, and it offers the first chance for Dawn Joseph to show her vocal chops in the extended vamp section at the end. The freedom to cut loose sounds good on her. "In the Name of Love" strays a touch closer towards disco, but it is, once again, underpinned by the impeccable band play and the commitment to the cause. Strings make a guest appearance in welcoming "Bring the Rain" to the party and it rumbles along beautifully, pushed forward by the fluent funk guitar picks. "95 Tonight" opens with a guitar shimmer almost identical to The Police's "Walking On the Moon," before embarking on a dance floor pleasing chorus bounded by the throbbing bass drum and piano refrains.
The same theme follows throughout the entire album. Tight, beautifully constructed soul pieces brought to life by spot-on production and wonderful musicianship abound. "Please To Meet Ya"'s lighter touch is all summer days and balmy evenings, while the breakdown at the end is a foot-stomping piece of uplifting, organ-filled joy. "Get On" has a hint of Stevie Wonder-esque keys to get the party started, before an early '80s synth sound carries it deeper. "We Live For the Summer" does exactly what you expect it to do, with a gently funky slice of mid-tempo summery soul.
"Self Portrait" offers a slightly different angle, with a harder funk feeling coursing through its veins, until the bridge and chorus bring it back to a lighter place. In opening the door a little further, it does leave the question hanging: What would happen if The Brand New Heavies went a little rougher, nastier and less polished? Now that would be something that could cross some boundaries and leave a few jaws dropped. An insistent backbeat launches "You Are the Fire," and it sounds like the jazz funk of their embryonic years is still very much alive and kicking, with a delightful guitar workout changing the character of the song at will. The finale, a cover of En Vogue's "Don't Let Go," is given a slight makeover with a faster pace and stop-start bridge. It works, albeit in a less gut-wrenching way than the original. The faster pace robs the song of some of its drama, only some which is regained by the driven feeling that pervades throughout.
And so, it boils down to this: Will anyone outside of their existing fans hear this beautifully constructed and perfectly played piece of decidedly retro soul-funk? And more to the point, does it matter and do they care? On the one hand it's as if the 1980s/'90s/'00s never happened, and you do find yourself yearning for a hip-hop inflected beat or a crisp rimshot. Yet and still, Sweet Freaks is executed with complete and utter conviction and joy, not to mention with a sheer abundance of deliciously sharp band play, that is honestly missing in mainstream music today. If organically made, solidly funky, '70s inspired music is your bag, then this is for you. If it isn't, then Sweet Freaks still merits your attention, but The Brand New Heavies will be far too busy having barrels of fun to care either way.
The Brand New Heavies Sweet Freaks [Amazon][iTunes][Google Play]

- Advertisement -