Twenty years ago, the world got a second dose of the talent that is Alicia Keys when she released her sophomore set The Diary Of Alicia Keys. The singer-songwriter has already marked the occasion with an orchestral version of her hit single "If I Ain't Got You" for Netflix's Queen Charlotte earlier this year. She's got much, much in store, however, including a deluxe version of the set and the release of her vault track "Golden Child."
"Golden Child," which was co-produced by her and her then-frequent collaborator Kerry "Krucial" Brothers, is based on a poem she wrote during a down time early in her career and was even featured in her poetry book Tears For Water in 2005. The song itself, however, owes quite a bit to Stevie Wonder's "Girl Blue," from his album Music Of My Mind. The song incorporates many similar elements to the Stevie classic — from the sighing guitar of the intro to lyrics and phrasing that mirror its structure.
Alicia makes sure to pay reverence to what came before, but she also offers her own sentiments as she speaks to feelings of inadequacy and her need to rise above it all. "Girl, you can't be scared / Gotta stand up strong / Let 'em see what shines in you," she sings. "Push aside the part / Laying in your heart / Like an ocean is deep, dark, and blue."
We all know that this particular golden child persevered and, 20 years later, is celebrating her journey. She's already booked a sold-out, one-night-only performance at Webster Hall to commemorate the occasion on Friday, December 1st. If you didn't make the number and snag tickets, don't worry. You can still join the celebration as she's set to drop rare videos from the era on YouTube, do merch pop-ups and have many more events in celebration.
The Diary Of Alicia Keys 20, the revamped deluxe edition of the set, is available for pre-order now and will also arrive on December 1st. Meanwhile, a 3-LP Vinyl Me Please edition of the set with a special handwritten letter from Alicia herself is available for pre-order as well.
The full tracklist of The Diary Of Alicia Keys 20 is available below along with a video detailing all the special things she has in store in the month leading up to the release. But first, take a listen to "Golden Child" right here.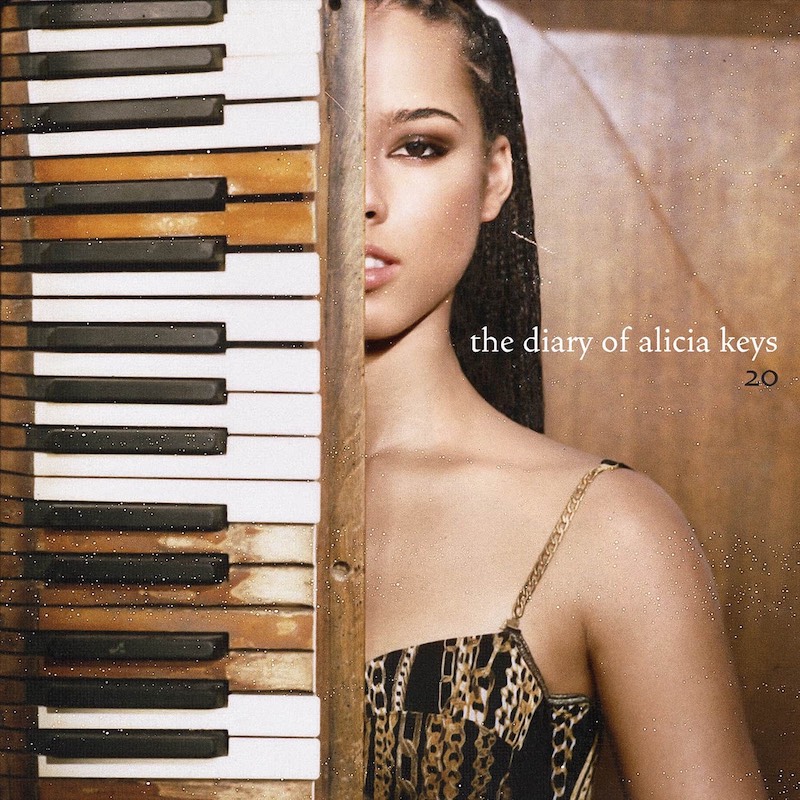 Alicia Keys The Diary Of Alicia Keys 20 tracklist:

1. Harlem's Nocturne
2. Karma
3. Heartburn
4. If I Was Your Woman/Walk On By
5. You Don't Know My Name
6. If I Ain't Got You
7. Diary (featuring Tony! Toni! Toné! & Jermaine Paul)
8. Dragon Days
9. Wake Up
10. So Simple (featuring Lellow)
11. When You Really Love Someone
12. Feeling U, Feeling Me (Interlude)
13. Slow Down
14. Samsonite Man
15. Nobody Not Really
16. If I Ain't Got You (Orchestral Version) (featuring Queen Charlotte's Global Orchestra) (from Netflix's "Queen Charlotte")
17. Golden Child
18. You Don't Know My Name/Will You Ever Know It (Reggae Mix)
19. Diary (featuring Tony! Toni! Toné! & Jermaine Paul) (Hani Mixshow)
20. If I Ain't Got You (Spanish Version) (featuring Queen Charlotte's Global Orchestra (from Netflix's "Queen Charlotte")
21. Streets of New York (AOL Broadband Rocks! Live at Webster Hall – December 1, 2003)
22. If I Ain't Got You (AOL Broadband Rocks! Live at Webster Hall – December 1, 2003)
23. Diary (featuring Jermaine Paul) (AOL Broadband Rocks! Live at Webster Hall – December 1, 2003)
24. You Don't Know My Name (AOL Broadband Rocks! Live at Webster Hall – December 1, 2003)
- Advertisement -