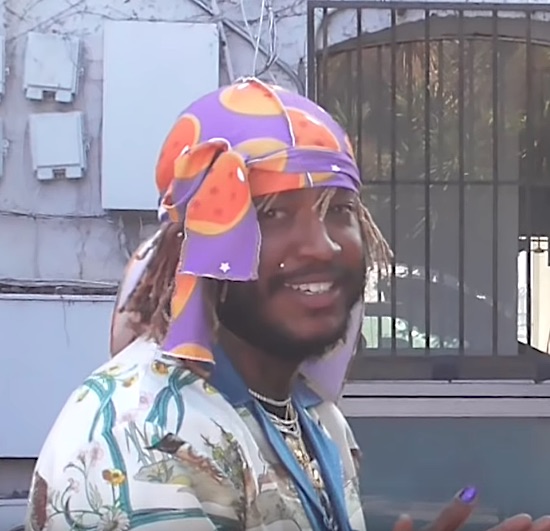 As far as we're concerned, Thundercat's creativity and master-level musicianship puts him in a category all his own. But just because the artist born Stephen Bruner is supremely talented, it doesn't mean that he takes himself too seriously. In fact, the singer/songwriter/producer/bass wizard is known for having fun with his craft. Sometimes, a little too much fun, as is the case with his new visuals for "Dragonball Durag."
Comedian Zack Fox is at the helm of the hilarious sketch that gives new meaning to the phrase, "One man's trash is another man's treasure." Thundercat is on a quest to get lucky – dressed for the hunt with a silky Mickey Mouse shirt, Dragon Ball Z shorts, Gucci belt, a gaggle of gold chains and freshly-Vaselined lips. Despite the fact that he's already smelling himself, he gains a major confidence boost after finding the titular durag and a pair of bejeweled spectacles near an alley dumpster.
With his newly-acquired swag, our boy heads to the park and tries to mack on comedienne Quinta Brunson. He breaks out his best dance moves, but to no avail. Undeterred, he enacts Plan B and pays a visit to Kali Uchis. Beneath her balcony, he proves that he's no Romeo with his unwelcomed one-man show. Quicker than she can dial 9-1-1, he's on to the next. The HAIM sisters are enjoying a smoke break when the lurking Thundercat leaps out of a yucky dumpster. The look on the ladies' faces says it all. But just as Danielle and Alana turn to leave, his twerking skills give Este pause.
Is this another exercise in futility for the wannabe playboy, or third time's the charm?  Peep "Dragonball Durag" below to find out. Afterwards, pre-order It Is What It Is before its April 3rd premiere, then get your tickets for Thundercat's upcoming tour before it's too late (many dates are already sold out).