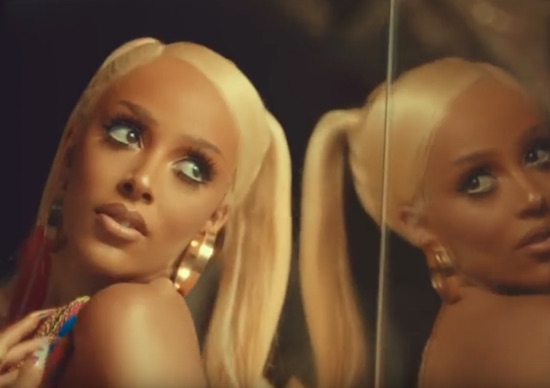 We aren't sure if you know this, but Doja Cat is on the rise. The meme-tastic singer/rapper has proved she has much more to offer with the release of her second album Hot Pink, which has some shining moments on it. But we don't think any of them (not even her hit "Juicy") glitter quite as much as the '70s groove of her cut "Say So." The cut sounds like it was pulled straight from the dance floor of Studio 54, so it's no surprise that Doja channels that era in the track's vivid new video.
Doja gets her flirt on in the clip while giving us looks inspired by the "Me" decade. She plays fashion plate in a few looks, including a multicolored crochet mini dress, a glittery dress that shines more than a disco ball and, finally, a rhinestone covered bell bottom jumper that fits her like a glove. The eye-catching looks are all for the clip's lead, a barrel-chested Latin lover who would have even the grooviest chick all up on him. Mix in a few lithe dancers, a brief appearance by viral dance sensation Donté Colley and more feathered tresses and Afro wigs than you can shake a stick at and you have the makings of a fun visual.
Doja Cat wasn't content with keeping the '70s love groove in just her video, though. She also brought the track to the stage of The Tonight Show Starring Jimmy Fallon. She played the role of disco diva on the stage as she and her Afro'd dancers danced and twirled in blush pink. Covered in voluminous pink tulle, she eventually shed that layer to reveal yet another form-fitting jumpsuit and adorned with pink feathers at the cuffs. The performance was all cotton candy pink perfection studded with just enough disco decadence to leave the crowd wanting more.
Most people may have discovered Doja Cat due to an internet joke, but this performance shows that maybe folks should start taking her a lot more seriously. Check out both the video for "Say So" and her fantastic Tonight Show debut below.