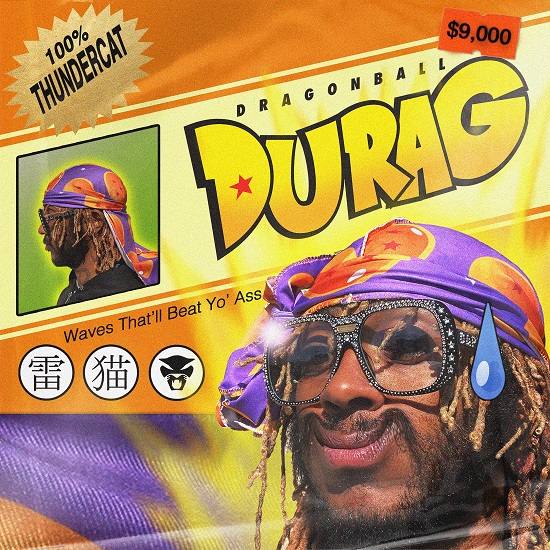 Who's ready for a new Thundercat album? We are! The bassist is getting ready to roll out his new album It Is What It Is this April and has already introduced us to it with his lead single "Black Qualls." While that track tackled a more serious subject — the unexpected problems that come up when you're black and successful — Thundercat is also known for bringing the funny with his music. In that tradition, his second single from the forthcoming set is his jam "Dragonball Durag."
We're greeted with a signature Thundercat bass line right at the beginning before it opens further with his falsetto. "I feel kinda fly standin' next to you / Baby girl, how do I look in my durag? / Would you tell me truth?" he asks at the top of the song. "Stay with me and love me through the night, endlessly / I'ma keep on all my chains, when I'm makin' love to you / Hold me close and let me squeeze you tight / Through the night." The song continues in that vein with Thundercat flexing how he looks with his durag on while proposing opportunities to smash. The lyrics have quite a few hilarious gems that we won't spoil for you. We will, however, give you a little bit about the inspiration behind the song.
"I have a Dragon Ball tattoo… it runs everything. There is a saying that Dragon Ball is life," Thundercat said in a press statement. He further explained the song's title, saying, "There are two types of people in the world, the guy with the durag and the guy who doesn't know what a durag is. The durag is a superpower, to turn your swag on… it does something, it changes you. If you have one in the wardrobe, think about wearing it tonight, and it may pop off because you never know what's going to happen."
Speaking of popping off, Thundercat will get it popping on tour at the end of the month when his 2020 trek starts in Vancouver. And, of course, It Is What It Is is set to arrive in April. Get wavy when you slip into "Dragonball Durag" right here.