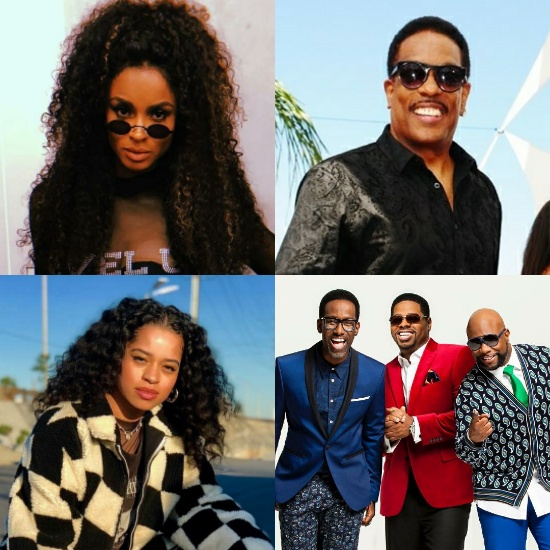 When Cardi B pulled out of the final leg Bruno Mars' upcoming 24K Magic World Tour, many were left wondering just who would he tap to replace the boisterous rapper as the tour's opener on such short notice. Well, now they will have to wonder no more with the announcement that Mars would be enlisting the talents of not one, but four big-name acts to fill the bloody shoes left empty in Cardi's wake. The GRAMMY winner took to Instagram to let fans know that Ciara, Charlie Wilson, Boyz II Men and Ella Mai would be stepping in as the tour's opening acts.
Each artist will join Mars at various points on the tour when it kicks off in a few weeks on September 7th in Denver. The charismatic crooner shared the news in a funny video in which he admitted that while he has a handle on the music and performing side of things, his Photoshop skills are seriously lacking. After attempting to create a collage featuring his newest touring guests, he instead settled for doing what he does best – singing songs by each of the artist joining him on road.
The newest additions to the tour couldn't have come at a better time. Ciara is currently riding high on the success of her new viral singles, "Level Up" and "Freak, Me" and Mai, who recently just made history when she became the first woman to top the R&B/Hip-Hop Radio Charts since 2012. Rounding out the lineup are legendary acts like Uncle Charlie and the guys from Motown Philly, who combined bring over 70 years of classics to the stage.
The tour will take Mars and Co. to cities like Detroit, Philadelphia, Toronto, Boston and Los Angeles, before wrapping up in his hometown of Honolulu, Hawaii. Take a look at Mars' announcement below and be sure to check out this electrifying show when it comes to your town.
Bruno Mars 24K Magic World Tour dates:
- Advertisement -
September 7 – Denver, CO @ Pepsi Center (with Boyz II Men)
September 8 – Denver, CO @ Pepsi Center (with Boyz II Men)
September 11 – St. Paul, MN @ Xcel Energy Center (with Charlie Wilson)
September 12 – St. Paul, MN @ Xcel Energy Center (with Charlie Wilson)
September 15 – Detroit, MI @ Little Caesars Arena (with Charlie Wilson)
September 16 – Detroit, MI @ Little Caesars Arena (with Charlie Wilson)
September 19 – Philadelphia, PA @ Wells Fargo Center (with Boyz II Men)
September 20 – Philadelphia, PA @ Wells Fargo Center (with Boyz II Men)
September 22 – Toronto, Ontario @ Air Canada Centre (with Ciara)
September 23 – Toronto, Ontario @ Air Canada Centre (with Ciara)
September 27 – Boston, MA @ TD Garden (with Ciara)
September 28 – Boston, MA @ TD Garden (with Ciara)
October 1 – Newark, NJ @ Prudential Center (with Ciara)
October 2 – Newark, NJ @ Prudential Center (with Ciara)
October 4 – Brooklyn, NY @ Barclays Center (with Ella Mai)
October 5 – Brooklyn, NY @ Barclays Center (with Ella Mai)
October 7 – Nashville, TN @ Bridgestone Arena (with Ella Mai)
October 8 – Nashville, TN @ Bridgestone Arena (with Ella Mai)
October 11 – Tulsa, OK @ BOK Center (with Ella Mai)
October 12 – Tulsa, OK @ BOK Center (with Ella Mai)
October 14 – Dallas, TX @ American Airlines Center (with Charlie Wilson)
October 15 – Dallas, TX @ American Airlines Center (with Charlie Wilson)
October 23 – Los Angeles, CA @ Staples Center (with Boyz II Men)
October 24 – Los Angeles, CA @ Staples Center (with Ciara)
October 26 – Los Angeles, CA @ Staples Center (with Ella Mai)
October 27 – Los Angeles, CA @ Staples Center (with Charlie Wilson)
November 8 – Honolulu, HI @ Aloha Stadium
November 10 – Honolulu, HI @ Aloha Stadium (with the Green, Common Kings)
November 11 – Honolulu, HI @ Aloha Stadium (with the Green, Common Kings)

- Advertisement -