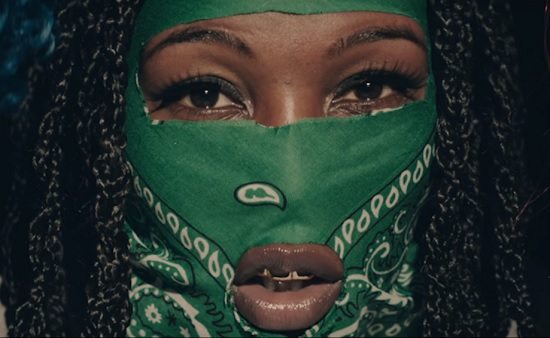 Up-and-comer Leikeli47 will be dropping her debut album, Wash & Set, in a little over a week. Ahead of that heat, she's gone ahead and released yet another visual, this time for her fiery single "2nd Fiddle." The song, which dropped earlier this month, was the rapper's claim to her fame, with her making it clear that she'll "never play 2nd fiddle to nathin'" while breathing some much-needed life into the female rap game. For the video, she keeps things very Brooklyn as she cruises through her stomping grounds and connects with a few homies.
The video begins with the masked rapper (and apparent singer) blowing out the candles on a lavishly decorated cake. That soon switches to scenes of Leikeli rolling with her homies through the streets of Brooklyn and stunting in a sequined jumpsuit. We're then shown a face to go along with the urgent voice on the track's chorus as her main man Clyde Guevara rises from the roof of a moving car to spit his raspy chorus. But, as the song suggests, the raptress doesn't waste time taking her rightful shine, expressing through strategically cut bandannas while switching effortlessly from singing to rapping and back like a young Lauryn Hill back in her heyday.
As we mentioned before, Leikeli47 has been bringing it with simple yet innovative visuals, and this one isn't an exception. We can't wait to get our hands on Wash & Set when it drops on September 8th and we hope she keeps bringing the musical and visual heat for years to come.
es