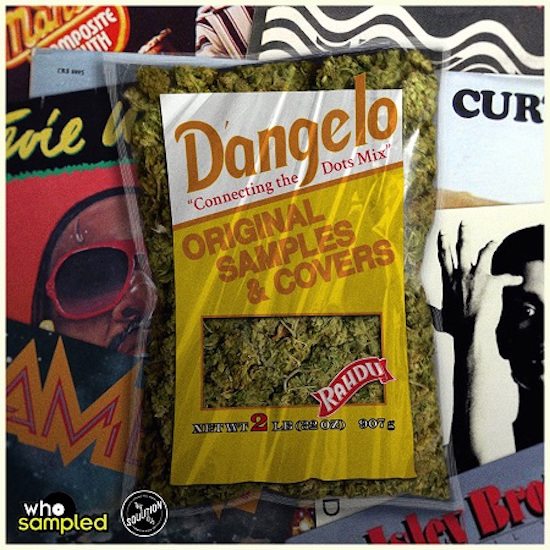 It was just a few days ago that we were celebrating the news that D'Angelo was prepping to release a deluxe and remastered version of his classic debut, Brown Sugar. Although we still have a month to go until the album's August 25th release date, Bamalovesoul's DJ Rahdu's latest mixtape, Connecting the Dots, is here to keep us stoked in the meantime.
For the project, DJ Rahdu highlights the original samples and covers D'Angelo has utilized over the years. While the timing couldn't be any more perfect, he says that he had actually begun working on the mix long before the Brown Sugar reissue had been announced. He was inspired to dig in the crates after listening to Kool & the Gang's "Sea of Tranquility" and realizing that D'Angelo had sampled it for his hit single "Send It On." This sent him over to whosampled.com in search of the other songs that had been sampled by the talented musician. Ultimately, he ended up reaching out to whosampled.com's Head of Content Chris Read and partnering up on the project and the rest, as they say, is history.
The partnership is a perfect fit between the DJ and the website, which features an extensive catalog of the songs that have been sampled by artists. "Over three quarters of an hour Rahdu explores D'Angelo's influences with a mix that joins the dots between tracks the Soulquarian has sampled or covered alongside his own tracks with live versions and interview extracts for added flavor," whosampled.com explains about the mix. With over the 30 tracks featured, Connecting the Dots features a blend of interviews, originals and covers from Pete Rock, The Ohio Players, Prince, Johny Guitar Watson, The Isley Brothers, Junie Morrison, J Dilla, Roberta Flack, Eddie Kendricks, James Brown, Teddy Pendergrass, Smokey Robinson, Roy Ayers, Bootsy Collins, The GZA, Inspectah Deck, Stevie Wonder and more. Peep the tracklist below after taking this fun and thorough look at one of our faves for a spin.
DJ Rahdu D'Angelo: Connecting The Dots Mix Original Samples & Covers tracklist
01 D'angelo - Pete Rock
02 D'angelo - Playa Playa
03 The Ohio Players - Players Balling (Players Doin' Their Own Thing)
04 The New Tony Williams Lifetime - Wildlife
05 Joe Tex - Papa Was Too
06 D'angelo - I Found My Smile Again
07 Prince - She's Always In My Hair
08 Johny Guitar Watson - Superman Lover
09 D'angelo - Send It On
10 Kool & The Gang - Sea of Tranquility
11 The Isley Brothers - Don't Say Goodnight (It's Time For Love)
12 Junie Morrison - Tight Rope
13 J Dilla - So Far to Go (Dilla Speaks)
14 Roberta Flack - Feel Like Making Love
15 Eddie Kendricks - Girl You Need a Change of Mind
16 James Brown - Funky Drummer
17 Michel Colombier & Pierre Henry - Jericho Jerk
18 D'angelo - Devil's Pie (DJ Premier Speaks)
19 Teddy Pendergrass - And If I Had
20 The Temprees - Explain it to Her Mama
21 D'angelo - Alright
22 Smokey Robinson - Cruisin'
23 Roy Ayers - Everybody Loves the Sunshine
24 D'angelo - Everybody Loves the Sunshine
25 Bootsy Collins - Hollywood Squares
26 The GZA feat D'angelo & Inspectah Deck - Cold World
27 Stevie Wonders - Rocket Love
28 Earth, Wind & Fire - Can't Hide Love
29 Curtis Mayfield - Mother's Son
30 Parliament - Mothership Connection (Star Child)

- Advertisement -