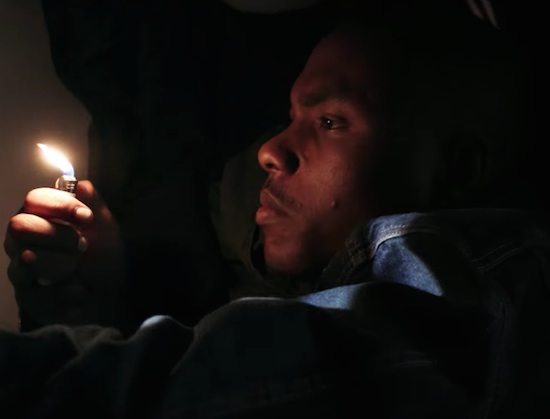 Members of The Internet past and present have kept us jamming with a steady stream of new music for the past few months, but they've really kicked it up several notches for 2017. Since the top of the year, we've gotten new albums from Matt Martians and Syd and loosies from former group members Tay Walker and Kintaro. Now we can add the band's guitarist Steve Lacy to the list with the release of his EP, Steve Lacy's Demo, just this past week. That's not the only thing that Lacy unveiled, deciding to drop a music video for the song combo "Ryd" and "Dark Red," tracks two and three from the EP, on its release date.
Directed by Matthew Castellanos, the two-for-one visual begins with Steve in a laundromat. It's unclear if he's doing laundry or not, but we watch him singing "Ryd" in the front window while a woman is posted up outside in her car. She's watching him, too, and bopping along to the music as the camera tightens in and switches back and forth between them. "Ryd" abruptly stops as the camera pans from the car to the laundromat, and we see that both are now empty. The sound of a glass bottle rolling on the ground gives us an indication that something's going on and soon enough we see that something isn't right when the camera moves out to show old girl stuffing Steve in her trunk.
The scene switches and so does the music as we see Lacy live from the inside of the trunk while "Dark Red" starts to play. He uses a lighter to illuminate his cramped surroundings while he tries to figure out how to escape. "Something bad is bout to happen to me," he sings, and he doesn't know the half. Meanwhile, his kidnapper is driving with the top down, singing as well and as unbothered as she wants to be. She only pauses when she hears him trying to get out of the trunk, and boy does she have a surprise for him when he does.
Watch Steve Lacy take the worst car trip of his young life in the "Ryd"/"Dark Red" music video to see his fate. While you're here, after you peep the clip be sure to take Steve Lacy's Demo for a spin where you'll hear the first single "Some" and equally funky cuts "Looks," "Thangs" and "Haterlovin." Purchase Steve Lacy's Demo on Amazon, iTunes or Google Play.