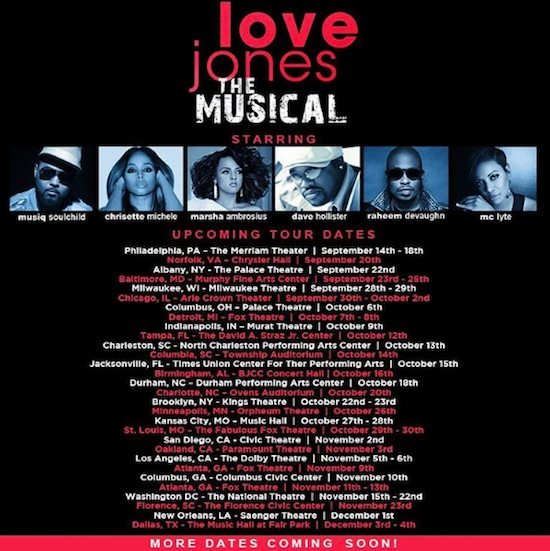 Earlier this summer, MC Lyte revealed that a musical theater adaptation of the classic film Love Jones would be heading to a city a near you sometime this fall. Now we know exactly when and where she and her co-stars Marsha Ambrosius, Raheem DeVaughn, Musiq Soulchild, Chrisette Michele and Dave Hollister will be landing, along with a few more details about the event.
Love Jones: The Musical is set to make its debut on September 9th in Oklahoma City. From there, the production will move on to cities such as Philadelphia, Baltimore, Chicago, Milwaukee, Detroit and St. Louis, just to name a few. Slated to commemorate the 20th anniversary of the romantic comedy, the stage adaptation will reportedly take the essence of the classic film and tell the story through the music of the featured artists, along with several original songs. Produced by Melvin Childs, written by Timothy Allen Smith and directed by Zadia Ife, the stage version also has the cosign of the film's original writer/director Theodore Witcher, who also serves as the play's consulting producer. "Our team has created something truly special and sincerely hope to live up to the expectations of the fans of the iconic film, Love Jones," Childs said in a statement.
While it is still unknown which roles any of the musical artists will play, they will also be joined onstage by acting veterans such as Tony Grant (OWN's Love Thy Neighbor) and Chaz Shepherd (Broadway's The Color Purple and Dreamgirls). It is also uncertain what effect, if any, Marsha's current pregnancy will have on her appearance in the traveling production. As we wait for more details to emerge, Love Jones: The Musical has released a promotional trailer which you can take a look at below.
Released in March 1997, Love Jones told the love story of Darius Lovehall and Nina Mosley while ushering in the marriage between neo-soul and spoken word on its iconic movie soundtrack. Though rumors of a sequel have abounded for years, actor Larenz Tate, who portrayed Darius opposite Nia Long's Nina, revealed earlier this year that it has been difficult getting movie studios as excited about a sequel as fans have been. So for those diehard fans, be sure to head over to Love Jones: The Musical's website since for the time being, this may be as close as we'll be getting to a sequel for a while.