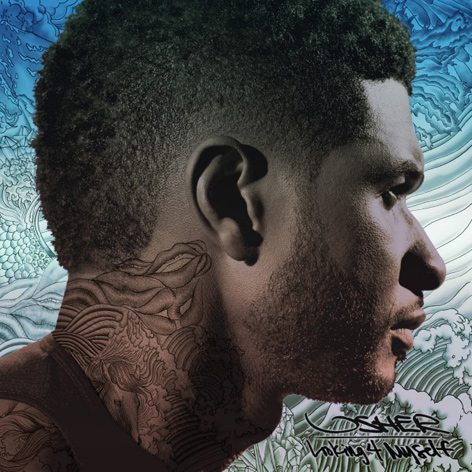 Usher Raymond
has always been a creature of the charts. After re-emerging as post-puberty Usher 2.0 with the smash
My Way
, his career was on a steady rise, fueled by sheer talent and the drive of his pitbull momager
Jonetta Patton
. But after recording the biggest R&B album of the last decade (2004's
Confessions
), where could his career go but down? The plot thickens when you factor in the mid-life crisis he seems to be experiencing (at 33 he's far too young, but nothing ages you in pop music like two kids, a divorce, and being called mentor by the teen heartthrob you once were).
Center
He's faced career concerns before -- in 2000, anticipation for a follow-up to My Way was high. Unfortunately, even with its timely uptempo sound and dance-parkour video, "Pop Ya Collar" failed as a lead single in the U.S. Reportedly in a panic over the chart prospects of the album, he went back in the lab to create a
surefire smash by working with The Neptunes, Jermaine Dupri and Jimmy Jam & Terry Lewis on 8701 (and then again with Dupri on Confessions). With this track record, one could hardly accuse Usher of being a risk-taker -- he (and yes, Jonetta) invested in surefire hits from big-ticket producers and reaped the rewards on the charts. It's always been this way. But his most recent grasps at chart domination are missing one key factor: the music just isn't as good.
On this, his first full stuio album after jumping on the dance-pop trend, Usher 4.0 is almost feature-complete -- a constant rotation of synths, four-four beats, and rapid blips -- but v3.0 does appear every now and again in the form of contemporary ballads and mid-tempo cuts. Reteaming with past collaborator and general stain on the music industry, will.i.am, Usher opens the album with "Can't Stop Won't Stop," which picks up where "Lil Freak" left off by taking the melodic signature of another beloved classic (this time, Billy Joel's "Uptown Girl") and stripping it of any of the humanity it once had. But unlike "Lil Freak," this is all guilt and no pleasure. It's a gimmick and a tempo in search of a song.
But if Joel's classic was made soulless for this exercise, at least it didn't go down alone. Raymond is rendered completely anonymous on many parts of the album, forcing you to slog through one dead-eyed dance number after another. The Swedish House Mafia-produced "Euphoria" is a more aggressive, altogether less fun rehash of their
2010 hit "One." "Show Me" is perfectly upbeat and sunny, but nondescript and soulless enough to sound tailor-made for a Microsoft ad. "Numb" is either about losing a relationship or the physical effects of spending too much time working at a desk, and may actually have been sung by Katy Perry or Rihanna. I'm not entirely sure, to be honest -- and I don't think anyone involved cared enough about what was going on in the booth to check.
Taken together, all the album's worst dance cuts make for a strange listening experience -- it's all-out torture at the hands of detached Nordic blond captors with a pronounced, icy detatchment from the atrocities they're visiting on you on one track after another. It's like living the movie Hostel.
But thankfully, the standard version of the album isn't awash in these umlauted horrors. Looking 4 Myself is actually a good album made inadequate by the fact that it could have been great. Cuts like the Rico Love/Jim Jonsin-crafted "Dive" and the Notorious B.I.G.-sampling "What Happened To U" see Usher attempting an electronic update to his previous slow-burning R&B-Pop sound. They feature the return of the falsetto-happy crooner, accompanied by a welcome return to actual lyricism (trite as it is in some spots)." "Lessons for the Lover" is a brilliantly
scorching hook on a killer track, but its verses fall flat. "I Care For U" all but squanders the potential of a brooding Nate "Danja" Hills production by not sufficiently raising the stakes from verse to chorus (a feat ably tackled by the Salaam Remi-produced standout "Sins Of My Father"). As stated in an earlier piece, the Pharrell-assisted
"Twisted" misses the mark as well (and is also a bit of a sonic anomaly in an otherwise thoroughly cohesive album).
Still, there are a few more outright winners here. Lead single "Climax" can stand among other classic Raymond slow-burners, successfully melding his past with the future he seems to have chosen for
himself. And with its introspective lyrics and retro, Rico Love-crafted strut, the Empire Of The Sun-assisted title track is a fantastic companion to Michael Jackson's "Human Nature."
Tip for you, though: stick to the standard version of the album. Looking 4 Myself is a cold reminder that the days when it made sense to shell out the extra bucks for the bonus tracks on a deluxe album are long over. When the bonus section isn't taking a drill
bit to your eardrums in the aforementioned Copenhagen dungeon, it's subjecting you to
mid-tempos clearly written by a rhyming dictionary. It's literally the saddest moment of Usher's discography, where he sounds worst-equipped to handle this new sound he's been forced to adopt.
- Advertisement -
And that's the problem here. I don't begrudge Usher the right to experiment with his sound. The problem really is that it just isn't his sound. Kelly Rowland's forays into dance music are nothing if not organic, and she sounds like she's having an absolute ball. Usher's evolution feels as insincere and nakedly calculated for chart success as any persona Christina Aguilera has ever embodied. In the
end, that's where the real tragedy of this album lies. For an artist so accustomed to being an active, vibrant presenter of his sound (as opposed to one-time
chart rival Justin Timberlake -- merely a delivery system for Timbaland and Pharrell's creativity), his regression to the role of empty, malleable pop star is a crying shame. One can only hope his current search for self ends in an ability to reconcile his chart aspirations with some real reflection on the kind of music he should be making as he enters his forties.
Usher Looking 4 Myself [Amazon][iTunes]
- Advertisement -
- Advertisement -