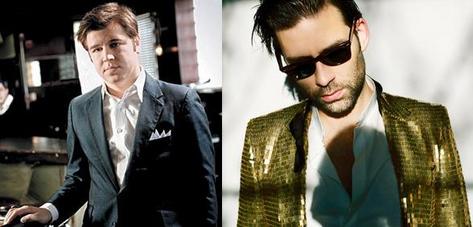 As we
continue to ponder
the impact of the recent influx of artists drawing heavily from the
Motown and 60s soul sound and it's impact on the contemporary music
soundscape, it's always good to hear some good cases-in-point. Amongst
the growing number of musicians whose associated hyperbole is always
rooted in their sounds being "unearthed," or "transported from the
60s," or "[insert soul legend] influenced" are
Jamie Lidell
and
Eli "Paperboy" Reed & The True Loves
.
Aside from their obvious similarities, they also both lovingly mine
this classic sound and interpret it through their own music to great
effect. Only on his latest release,
Jim
, has Lidell dedicated an entire LP to this style of music, a type in which Reed's debut album
Roll With You
is grounded.
In this Battle of the Beats the competing tracks grapple with
foolishness through gravelly balladeering and dragging instrumentation. "Game For Fools" is from Lidell's earlier album Multiply (2005), and "(Am I Just) Fooling Myself" can be heard on Roll With You, released this year. Which take on foolery brings the mood down farther and better?
Eli "Paperboy" Reed & The True Loves: "(Am I Just) Fooling Myself"


Jamie Lidell: "Game For Fools"


Eli "Paperboy" Reed & The True Loves [Official][MySpace]
Roll With You [Amazon][iTunes]
Jamie Lidell [Official][MySpace]
Multiply [Amazon][iTunes]
- Advertisement -