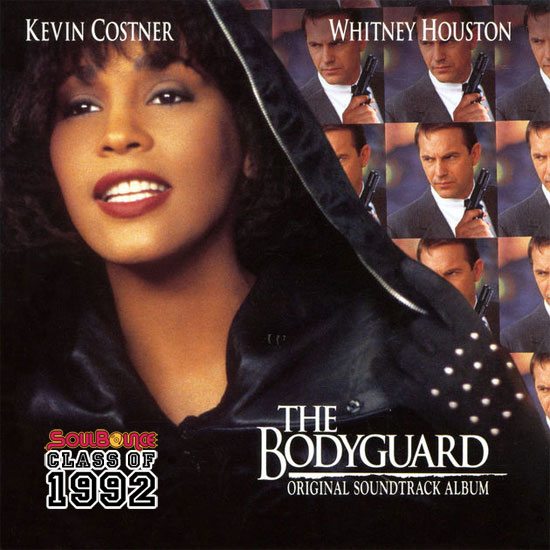 As we get ready to say hello to Class of 2012 with our end-of-the-year accolades and honors, we must first bid adieu to SoulBounce's Class of 1992. Over the past few weeks we've taken a nostalgic look back on albums that turned 20 years old this year and what a year it was. 1992 saw many hits, more than a few misses, stellar debuts and genre-defining, game-changing releases. A number of what we regard as classic albums were released in that year, and listening to them 20 years later in this age of disposable music made by here-this-morning, gone-tonight artists it's easy to hear why they're classics. The last album that we will pay homage to as it celebrates two decades of existence is bittersweet not just because it ends this series but because the artist who made it such a record-breaking, runaway hit didn't live to see this album reach this milestone. That artist is Whitney Houston and that album is The Bodyguard: Original Soundtrack Album.
Much has been said about Whitney Houston since her unfortunate death on February 11, 2012. She had just wrapped production on her fourth feature film (and sixth overall), Sparkle, and after years of substance abuse, public train wrecks and a fall from vocal grace, this was supposed to be the comeback vehicle that would deliver her back to the top or at least close to it. No one could have seen this tragic trajectory coming 20 years ago when Houston made her movie debut in The Bodyguard and released the accompanying soundtrack that would skyrocket into the history books with its success.
The Bodyguard wasn't a musical but music was central to the movie with Whitney's starring turn as icy diva in distress Rachel Marron. Playing a superstar singer-turned-actress was no stretch for Houston who was living out that dream herself. And belting out larger-than-life ballads and dance songs was second nature to this chart-topping pop phenomenon. Whitney may not have won any awards for her acting in The Bodyguard, but what she lacked as a thespian she more than made up for on the soundtrack.
The Bodyguard: Original Soundtrack Album was 12 songs long -- half Houston, half other artists -- but let's face it, this was Whitney's album, and its success can be attributed directly to her unmatched vocal ability and a batch of amazing songs, both remakes and originals, that she contributed.
The album started with the juggernaut that was "I Will Always Love You," itself a cover of a Dolly Parton composition. Whitney took the country song and made it her own with her strong, soulful delivery by singing what is surely regarded as the definitive version. From its a cappella intro, which the record company suggested she change (good thing she didn't listen), to the astounding notes she carried with ease to the end, Whitney sang this song like it had never been sung before and will likely never be sung again. She clocked in a four-and-a-half minute vocal master class on the David Foster production. The song was out-of-this-world, but no one could predict how well the single would do with the public who within weeks of its November 3, 1992 release date would go on to make it three times platinum. "I Will Always Love You" obliterated chart records at the time by spending 14 weeks at No. 1 on the Billboard Hot 100 as well as ruling the Hot R&B Singles and Hot Adult Contemporary Tracks charts for weeks. The song had far-reaching crossover and international appeal and would garner multiple awards, including two GRAMMYs one of which was for Record of the Year. The dizzying success of "I Will Always Love You" was a personal best for Whitney, but it was just the beginning of what The Bodyguard soundtrack had to offer.
The second single was another remake, this time with Whitney taking fellow diva Chaka Khan's soulful anthem "I'm Every Woman" and revamping it for the dance floor. The tempo change worked and so did the '90's house-lite flavor supplied by producer Narada Michael Walden with additional production from Robert Clivilles and David Cole of C+C Music Factory. But it was Whitney's voice that was once again the star. By the time she sang "I can cast a spell," you were already under hers. Chaka's original was safe, but Whitney's version breathed life into the classic and introduced it to a new generation. The music video itself was a fun all-ages celebration of women with Whitney bopping around with Bobbi Kristina starring as her baby bump, TLC, Cissy Houston, co-writer Valerie Simpson and Chaka Khan herself all getting some shine. Although not as big a chart success as the preceding single, "I'm Every Woman" did place highly on the Billboard pop, dance, R&B and adult contemporary charts.
Long after the movie disappeared from theaters, The Bodyguard's soundtrack kept churning out the singles, with the third and fourth being "I Have Nothing" and "Run To You." These two power ballads weren't as arresting as "I Will Always Love You," but they were also big pop productions with Whitney registering flawless performances. That voice was at its most impressive throughout the album's A-side, rounding out the festivities with the pop/rock/dance number (and fifth single) "Queen of the Night" and the gospel song "Jesus Loves Me" co-produced by BeBe Winans and featuring members of Take 6.
- Advertisement -
It was almost unfair for the remainder of the songs on The Bodyguard soundtrack to have been included as every one was overshadowed by Whitney's six-track onslaught. Songs such as "Someday (I'm Coming Back)" by Lisa Stansfield and The S.O.U.L. S.Y.S.T.E.M.'s "It's Gonna Be A Lovely Day" were great (and also released as singles), but they just weren't Whitney. Nonetheless, the six songs on the B-side didn't detract from the album or make it any less popular. The Bodyguard: Original Soundtrack Album has gone on to sell 45 million copies to date, win an Album of the Year GRAMMY and is still the best-selling soundtrack album of all time.
Twenty years later, The Bodyguard: Original Soundtrack Album has held up well and, despite the non-Whitney filler, is a classic. The same can't be said for the movie, which looks dated and is even cornier than you may remember today. But as long as there are reality singing competition shows, Whitney's songs from The Bodyguard will always have a home. No one has yet to do it quite like Whitney did during a time that we now know was the apex of her career. More albums and more movies would follow, but nothing would match the success she experienced during The Bodyguard years. Unlike her Bodyguard character Rachel Marron, Whitney Houston's story didn't have a happy ending but at least it too had a banging soundtrack.
- Advertisement -
Whitney Houston & Various Artists The Bodyguard: Original Soundtrack Album [Amazon][iTunes][Google Play]
- Advertisement -