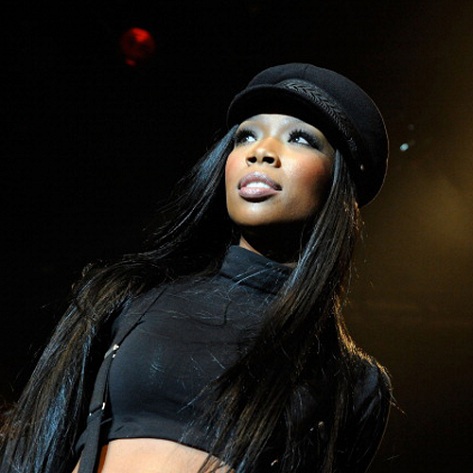 Here's a cold hard fact for '80's babies:
Brandy
's debut single, "I Wanna Be Down," is nearly 20 years old -- it celebrated its 18th birthday this past September 6th. Despite this fact, and a slightly underwhelming couple of years recently, the one-time teen queen managed to have a legion of fans wrapped around a New York block in the pouring rain for her concert celebrating the release of
Two Eleven
. Under their umbrellas, the crowd talked about their favorite Brandy albums and moments, explaining why the singer meant so much to them. Some pointed out her sitcom
Moesha
, while others mentioned albums like
Full Moon
and
Never Say Never
. Though no two people seemed to have the same reasons, they all agreed on the one thing: They were all here to witness Brandy's triumphant return.
Center
While everyone was there to see B-Rocka, the crowd was first treated to openers Hal Linton and Bridget Kelly. Linton, who has been bubbling under for years now, only got the chance to perform three songs in a set plagued by technical difficulties and an audience growing increasingly restless. Though his acoustic cover of Maxwell's "Lifetime" went over well, his own songs -- including recent single "Want You to Know" -- couldn't capture the audience's attention. Bridget Kelly, however, fared much better. First winning over the NYC crowd with a slowed down take of "Empire State of Mind," the Roc Nation signee continued with drunk-dialing anthem "In the Morning" and "Seek and Destroy." Next, she performed "Thinkin Bout You," a song originally penned for her by Frank Ocean before he reclaimed it (a fact she hinted at with a bit of shade before singing). She finished off the set with her single "Special Delivery," a bouncy kiss off to a no good ex.
After a bit of stage maneuvering and a lot of fog, it was finally time for Brandy to show the crowd what she's got. And what she's got is hits. Stepping on stage dressed in black leather pants, a black midriff top along with a matching black hat, Brandy opened with "What About Us." The Full Moon track was just the tip of the iceberg with a cavalcade of hits from the '90s and early 2000s. Taking pages from Janet Jackson, Brandy and her two backup dancers worked it out to songs like "Full Moon," "Sittin' Up in My Room," "Baby" and "I Wanna Be Down." The singer was in fine form, performing like it was 1998 and Never Say Never was at the top of the charts. When she took the time to address the audience, soaking in the cheers and I-love-yous of the crowd, her lovable girl next door persona was in full effect. More importantly, though, a confidence she had once lost seemed to be recovered. The R&B star was back.
Taking a small break, she turned the stage over to newcomer Luke James. James all too happily took the chance to show out with his single "I Want You." Making the ladies in the audience swoon with his staggering falsetto, the singer went to church on the stage. He stomped, he hollered, he danced in circles. Essentially, if anyone in the crowd was unsure of who Luke was, they knew all they needed to with just one song.
Brandy powered back to the stage after changing into denim short shorts and a loose tank top for a Whitney Houston tribute that featured "I'm Your Baby Tonight," "How Will I Know" and "I Wanna Dance With Somebody (Who Loves Me)." Like her BET Awards performance this past summer, it was a great showing (even if performing the songs in exactly the same manner repeatedly slightly discredits the sincerity). She then slowed it down a bit, performing her signature "Have You Ever" and "Almost Doesn't Count." Both songs showed off how much Brandy has grown, exhibiting a greater control of her vocal highs and lows with ease and a smile.
The two singles from Two Eleven, "Wildest Dreams" and "Put It Down," closed the show. While both of these don't compare to her past material, they garnered some of the most spirited performances (and applause) of the night. Especially "Wildest Dreams," which featured some of the night's most intricate choreography, showing that this new incarnation of Brandy is not afraid to cut a rug to get her point across. Whether or not the singles, and Two Eleven itself, will be the comeback that Brandy's hoping for remains to be seen. But with this performance, Brandy showed that she's finally ready to put the past behind her and show the world the talented artist that got its attention in the first place.
[Photo: DJ Booth]
- Advertisement -