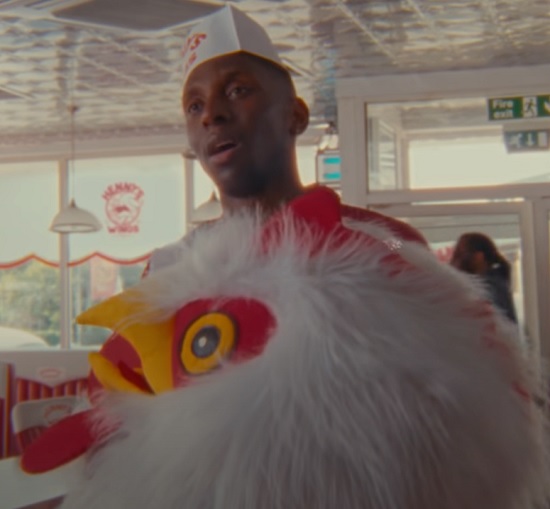 Samm Henshaw is one of those artists who knows the power of not taking himself too seriously. In fact, you can always count on him to add some levity to his songs and especially his music videos. The visual for his latest single "Chicken Wings" is no exception to this rule.
The song itself was already cheeky thanks to some cute ad-libs and winking lyrics. Samm expands upon that in the video by taking on the role of Sonny. We see him arriving to his job as a worker at Henny's Wings under the leadership of a fussy old man (also played by Henshaw) who seems to have it out for him.
While he goes through the day-to-day hassles that come with fast food work (including being forced to actually dress as a large chicken), he occasionally drifts into the surreal as he imagines couples in love in the establishment. Things take a turn for the weird, though, when the rest of his co-workers pull out horns and start jamming while he stares in confusion. We eventually make it back to the real world. There, we see him at the register as a woman who looks a lot like Tiana Major9 did in the video for "Grow" walks up to the counter to make an order. Do we smell a cliffhanger?
You can watch Samm Henshaw do what he does best in "Chicken Wings" right here and stick around to see a mockumentary where we're introduced to the crew slinging chicken at Henny's Wings below.