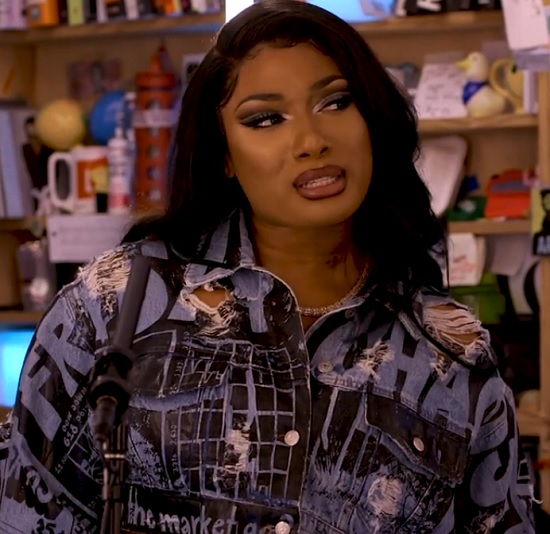 Megan Thee Stallion has probably had 2019's biggest (and best) come-up. The Houston rapper has become a household name while encouraging ladies (and fellas) to live their best lives with this summer's anthem "Hot Girl Summer" and her hotter than hot mixtapes Tina Snow and Fever. That's why everyone's favorite hot girl was a shoe-in to stop by NPR Music's Tiny Desk during their Tiny Desk Festival earlier this year. In case you missed it, they've finally dropped the set in full for everyone to see.
Backed by Brooklyn's own Phony Ppl, Megan wasted no time getting real and raw with her first track "Realer" (and perhaps now is a good time to mention that this performance is undoubtedly NSFW). The expletive-filled track gave newbies a good idea of how she rolled. If they were unsure, though, Hot Girl Meg doubled down with her jam "Freak Nasty," whose title pretty much sums up the vibe. It was Megan's first time performing with a band and though it showed at times (especially when they trotted out her more well-known tracks like "Cash S**t" and "Hot Girl Summer"), she really took advantage of the opportunity. She and the band even unveiled their new collaboration "F**king Around," which married Meg's raw style with their melodic rhythms almost seamlessly. When it was time to say goodbye after a performance of "Money Good," you could tell that Megan, Phony Ppl and the audience didn't want things to end.
Megan Thee Stallion might be known as a queen with sturdy knees but, based on this performance, she might soon become the newly crowned queen of rap.