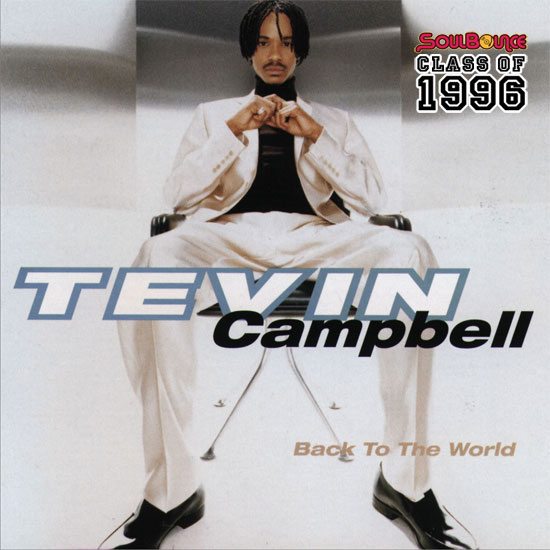 1996 was the year for stellar debuts and sophomore returns, but many artists coming for another run at glory found that the audience was a bit less receptive than they had been before. Unfortunately, that was the case for Tevin Campbell, who came back to to us with Back To The World that June. His previous outings, T.E.V.I.N. and I'm Ready, had been hits, taking him to the top of the R&B and pop charts and expectations had been that his third effort would do the same. To that effect, Tevin and his crew enlisted a crew of songwriters and producers that included Rahsaan Patterson, Babyface and Sean "Puffy" Combs, who helped him craft a fairly solid album.
The set's lead single and title track, "Back To The World," was also the most successful release from the album. Co-written by Patterson, Jamey Jaz and Lynn Roderick (cool fact: Roderick is the mother of singer-songwriter Elle Varner). It peaked at No. 47 on the Billboard Hot 100 and No. 16 on the R&B charts. The set's two other singles, "I Got It Bad" and "Could You Learn To Love," which was penned by Babyface, failed to break into the Hot 100 and were welcomed to tepid reception on the R&B charts. Still, the album had its merits. For one, his work with Puffy lent itself to two of the more solid slow jams in Tevin's catalog, "You Don't Have To Worry" and "We Can Work It Out." Both helped Tevin, who was stepping into adulthood at 20, work with a more mature sound. Then there's "I Need You," which found Tevin veering from his pop/R&B sound over a funky sample of B.T. Express' "Do It ('Til You're Satisfied).
Ultimately, Back To The World would go on to be certified gold by the RIAA, a far cry from the multi-platinum successes of his previous work. After releasing his self-titled fourth album and a controversial arrest, Tevin faded from the spotlight, only emerging for a stint on Broadway in the musical Hairspray. However, in recent years, Tevin has resurfaced, doing concerts here and there and even releasing a new single, "Safer On The Ground," this past April. Only recently hitting the big 4-0, we doubt that we've seen the last of Tevin and look forward to seeing what the vocalist does in the future.
Tevin Campbell Back To The World [Amazon][iTunes][Google Play]