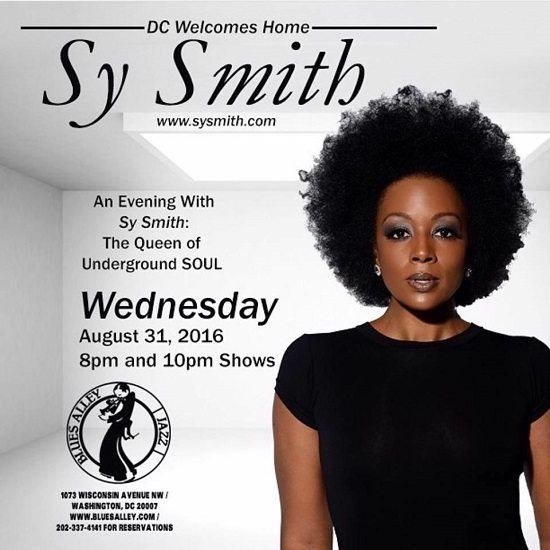 In our humble opinion, underground soul diva Sy Smith is indeed one of the best to ever do it and has been doing it quite well for well over a decade now. Four albums and many accolades later, she's still going strong as she has been hitting the road from coast to coast and around the world to share her musical gifts with the masses. Now she's bringing it back to where it all started, Washington, DC, to show her hometown some love.
Sy is hitting the capital's famed Blues Alley to allow fans and friends alike an opportunity to hold court with the Queen of Underground Soul and see her rock the stage like nobody's business. And, as if that weren't enough, she's bringing along a very talented band — with Dre King on keys, Lee Pearson on drums, Richie Goods on bass and SoulBounce family Nicholas Ryan Gant on supporting vocals — to help her jam out for the early set at 8 p.m. and a later set that evening at 10 p.m. And if you've had the pleasure of following the musical chameleon that is Sy, then you'll be prepared for the night to run the musical gamut from jazz to soul to rock to hip-hop and everything in between.
If you know like we know, you'll definitely make plans to be in the number come Wednesday, August 31st. Tickets are $25 and can be found on the Blues Alley website.