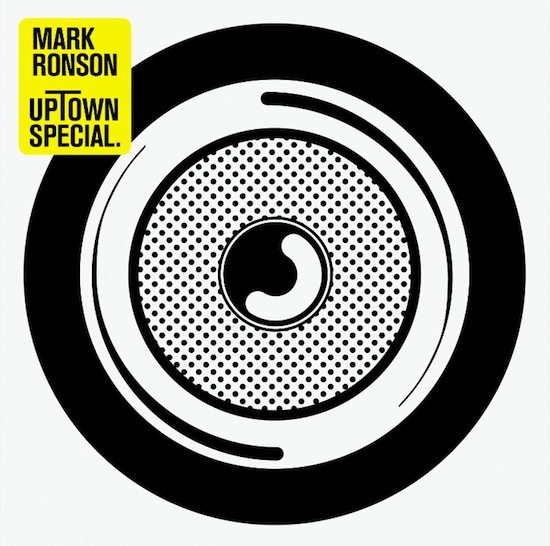 Diligently working behind the scenes as a sonic architect laying the blueprint for sounds of some of the greatest commercial and critical successes of the past 10 years (Adele, Amy Winehouse and Christina Aguilera, to name a few), Mark Ronson is a household name within the music industry. However, his name recognition, while noteworthy, is not as pervasive as that of many of the artist's he's helped make hit records for.  All of that's about to change with his latest release Uptown Special, which puts his dynamic production ability, including his wizardry with funk, soul and hip-hop, center stage.
Ronson uses Uptown Special to attempt to bring a funk sound back to the forefront of popular music, a proposition that is long overdue.  For too long we've been conditioned to settle for mainstream music that is catchy, but soulless. To carry out his funky expedition, he brought together his own Justice League of producer-songwriter-multi-instrumentalists. His team includes Jeff Bhasker, who collaborated with Kanye West on 808s & Heart Breaks and My Beautiful Dark Twisted Fantasy and Jay Z on Watch the Throne,  along with the immense talents of Andrew Wyatt, who's currently the vocalist in the Swedish electronic pop band Miike Snow, and Kevin Richard Parker, leader of the band Tame Impala.
Uptown Special essentially represents a journey through funk in its prime, giving us modern interpretations of funk stylings from the 1960s through the '80s. How does one start off such a journey? With Stevie Wonder that's who.  Stevie gives us his signature harmonica sound on the first track "Uptown's First Finale," essentially a co-sign giving his blessing to draw heavily from his catalog and style throughout the album. I can't be mad at Mark, because a wise man once told me, "If you aren't stealing from Stevie, what you're doing isn't really that funky."
His second track, "Summer Breaking," has a soulful-rock funk sound with a distinct '70s vibe, evoking the feeling of the mellowest of Roy Ayers songs. The laid-back nature of "Summer Breaking" is torn asunder by the familiar growl of rapper Mystikal on "Feel Right." Surprising on many levels (especially because I haven't heard much from the emcee in years), Mystikal actually does feel right on this classic funk, James Brown-inspired track.  The only lyrically explicit track on the album, Mystikal's raw raspy growl is reminiscent of Brown's in texture, and his natural frenetic energy aligns well with the live band's Funk Brothers type style.
The next stop on the journey is '80s funk with Bruno Mars on the chart topping single "Uptown Funk."  Infectious, highly danceable and, of course, funky, this track has The Time's influence all up and through it, which is why I found it so fun.  A tremendous horn section and funktastic bass performance might tempt you to do The Bird in homage to Morris Day.
"Daffodils" returns the album to a more psychedelic-funk sound with an aggressive electric guitar presence and very explicit nods to Chaka Khan, even including a "Don't Stop the Music" Yarbrough and Peoples-like breakdown.  The funk rock sound continues on "In Case of Fire" revisiting the Stevie Wonder theme, utilizing elements of the beat on "Higher Ground."
However, Uptown Special doesn't just reflect the style of Stevie Wonder's upbeat songs but incorporates his ballad stylings, most prominently on "Crack in the Pearl" featuring Andrew Wyatt, a vocal highlight on the album. Wyatt has soulful yet tissue paper-soft vocals with a sound that's drawn comparisons to John Lennon.  Wyatt's vocals bring a unique brand of cool to each track he appears on, especially on the undeniably smooth funkiness of "Heavy and Rolling," another nod to 1970s-era soul, which is quickly becoming one of my favorite tracks on the album.
- Advertisement -
The dance floor is once again under attack with "Can't Lose" featuring Keyone Starr. Starr's vocals initially mimic the familiar cadence and structure of Nate Dogg on "Ain't No Fun (If the Homies Can't Have None)," but thankfully switch up to a more Chaka Khan-like style. "Can't Lose" emphasizes the keyboard sound prominent in '80s funk with elements of "Jamaica Funk" and "Bad Mamma Jamma," undergirded with the B-Boy staple beat from Pal Joey's "Hot Music (Jazz)." With "Uptown Funk" currently tearing up the charts, I hope to hear "Can't Lose" in rotation by spring time.
Uptown Special ambitiously sets out to do with funk music, what Daft Punk did with disco on its chart-busting Random Access Memories album by re-imagining a genre in a fresh and timely way. While Ronson certainly doesn't reinvent the wheels of soul and funk music the same way legends like James Brown did, his modern interpretation of classic funk makes those wheels shine brighter than they have in a long time, and mainstream pop music is all the better for it.
- Advertisement -
Mark Ronson Uptown Special [Amazon][iTunes][Google Play]

- Advertisement -