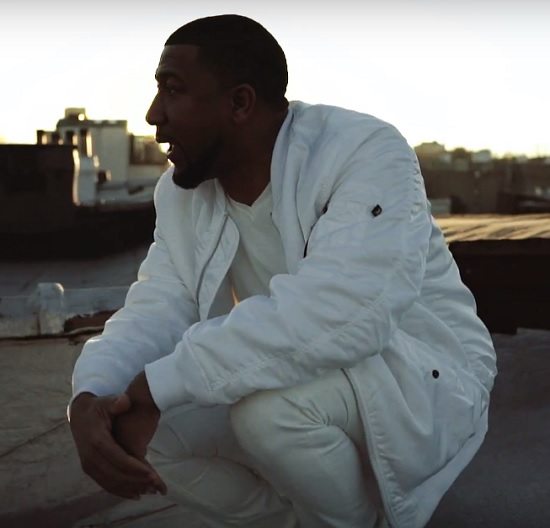 While a lot of mainstream hip-hop is taking a turn for the ratchet, there are indie artists like New York-based rapper Jahan Nostra providing a counterbalance with down-to-earth lyrics and real-life topics. His most recent full-length project, 2016's ESP, showcased his talent and skill at telling interesting and engaging stories through rhyme. But he doesn't just limit his storytelling to wax, taking to the co-director's chair for his latest video, "Embrace The Rain." And we here at SoulBounce are happy to bring you your first look at the clip.
The song itself invites listeners to power through the many storms that may come in life. "When the sun don't come, just embrace the rain," he spits on the chorus. "That's the only way that things will change." The encouraging message is one that everyone needs to hear at one point, especially during the hard times. "If you're having a bad day or feeling down, it's an uplifting song," Jahan said of the track. For the song's video, Jahan tapped DJ Alex Manon to make his acting debut as a homeless teen. We watch as he makes it through moments of the day — searching for food in the garbage, aimlessly wandering the streets of Brooklyn and hanging around the subway. Though he's going through hard times, he still manages to find time to show kindness by returning a little girl's cherished toy, a move that eventually helps him to make moves out of his situation. It's a message and story that usually isn't included in music videos, but one that is very welcome.
"Being homeless is usually thought of as being something that impacts older people," he said in a statement about why he chose the subject. "But in reality, there are 1.7 million youth experiencing homelessness in this country. There are 50,000 kids who sleep on the streets for six months or more each year. And 1 in every 5 children between the ages of 10 and 18 will run away from home."
While those are sobering statistics, Jahan's message of hope in "Embrace The Rain" is definitely one way to shed light on the subject. Check out the video below and be sure to pick up Jahan's ESP now via iTunes. For more info about what you can do to help homeless youth, check out StandUp For Kids and Robin Hood Foundation, whom Jahan consulted when making the video.