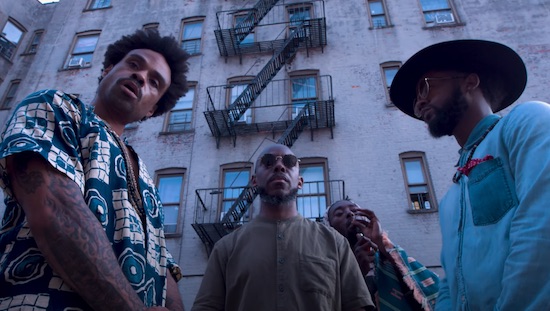 The current climate has forced us all to address some deep-seated concerns and ask a few painstaking questions (or at least it should). Saxophonist and composer Marcus Strickland is the latest among artists using their medium to express the myriad of emotions we are all experiencing at this time. For his most recent release, he revisits "On My Mind," the second single from his 2018 LP People Of The Sun, with a remix. The intricate track is a sonic conglomeration of color and movement, brilliantly merging elements of hip-hop and jazz. Howard University's own, stylish storyteller Greg Tate joins legendary funk star Bilal and hip-hop icon Pharoahe Monch to add their touch to the multi-layered masterpiece, as they each explore the duality between infatuation and romantic love.
As such a dynamic piece deserves an equally compelling visual, the accompanying short film created by Petra Richterová and Jennifer Galvin leaves no creative stone unturned. Shot in both the streets of the Bronx, NY and at the Museum of Art and Origins in Harlem, the feature captures present-day authenticity as well as ancient roots. We spot Strickland, Tate, Bilal and Monch, as well as bassist Ben Williams and drummer E.J. Strickland, in various versions of fellowship and states of simply being. The focal point of the film, however, is none other than self-described "visual recording artist," dancer Storyboard P. From the tip of each limb to the top of his crown, his movements somehow capture all the energy of the track and every element of each emotion felt. With love still reigning as the overarching theme, the viewer's thoughts expand from track's original romantic notion to one more societal in nature. The lyrics, instrumentation and imagery coupled with our need to constantly remind folks that black lives do indeed matter, lead us to ponder the seemingly empty infatuation for Black people versus the love for Black culture.
Watch Marcus Strickland's short film for "On My Mind (Remix)" featuring Greg Tate, Bilal and Pharoahe Monch below and, if you haven't already done so, be sure to check out the full People Of The Sun album.