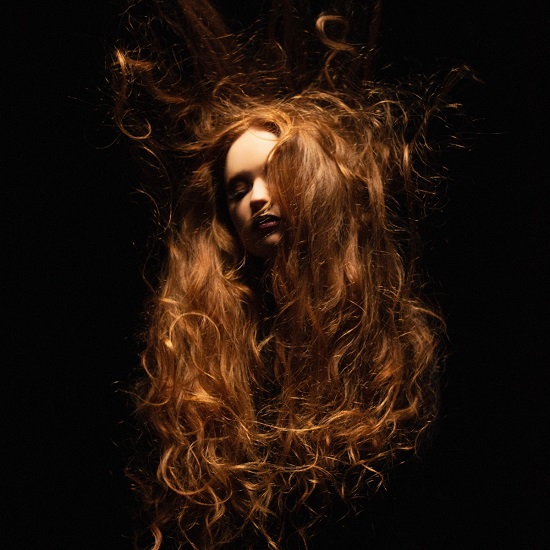 Singer-songwriter iyla is relatively new to the music scene, but she certainly knows how to make an entrance. Her 2018 debut EP War + Raindrops delivered unapologetic lyrics and distinctive visuals that focused on everything from breakups to suicide. She plans to continue her innovative ways in 2020 with the release of her follow-up EP Other Ways To Vent, due February 7th. But we don't have to wait until next month to hear something new – she's already released the lead single and video called "Tattoo Tears." The song is a definitive "goodbye" to her ex, her voice riding the beat as she declares, "You won't see me reminiscing, oh no...I'd rather tattoo tears than cry for you."
Her boldness carries over into the music video with winning effect. Directed and styled by longtime collaborators Embryo and Brookelyn Styles, iyla has confidence in spades, rocking futuristic couture and serving face with fiery red hair and oxblood lips. The clip plays with shadow and light to create striking scenes. The artist explains the creative concept, saying, "In a relationship feelings and expectations are constantly being projected on you by your partner. The visuals being projected on me in this video are a representation that no matter how chaotic it gets, those projections are temporary and ultimately do not define or change who you really are."
We're digging iyla's sound, style and vibe. It's almost like a mix between Billie Eillish, Summer Walker and Kehlani; but make no mistake, this L.A. girl will never be labeled as a copycat. Scroll down to hear and see "Tattoo Tears," we're sure you'll agree that she's one to watch. The song is currently available as an instant download when you pre-order Other Ways To Vent. Afterward, visit her website and make plans to see her perform live at select cities across North America.
iyla: North American Tour Dates:
02/16 - Café du Nord - San Francisco, CA
02/18 - The Troubadour - Los Angeles, CA
02/19 - Valley Bar - Phoenix, AZ
02/21 - House of Blues: Bronze Peacock - Dallas, TX
02/22 - House of Blues: Cambridge Room - Houston, TX
02/23 - Stubb's Indoor - Austin, TX
02/25 - High Watt - Nashville, TN
02/26 - Vinyl - Atlanta, GA
02/28 - Songbyrd DC - Washington, DC
02/29 - Sonia - Boston, MA
03/02 - Rough Trade - Brooklyn, NY
03/03 - The Foundry at The Fillmore - Philadelphia, PA
03/05 - The Drake Underground - Toronto, ON
03/07 - Beat Kitchen - Chicago, IL
03/09 - Larimer Lounge - Denver, CO
03/11 - Kilby Court - Salt Lake City, UT

- Advertisement -