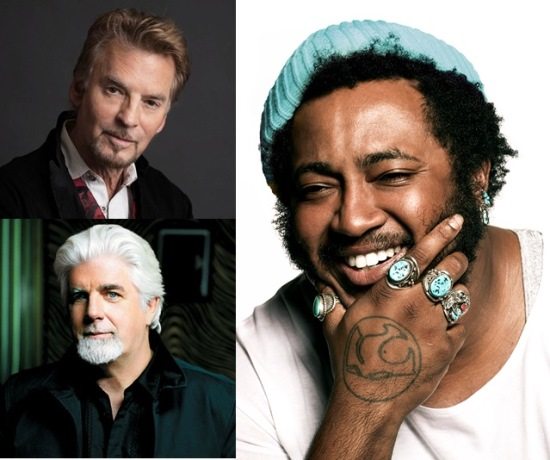 It looks like 2017 will be the Year of the Bruner Brothers. So far, we've caught wind of upcoming projects by Ronald Bruner Jr. and Jameel Bruner (aka Kintaro). And earlier today, Thundercat had us shouting "Hoooooo!" over here at SBHQ after a pretty epic revelation. After months of speculation, the bassist gawd born Stephen Bruner divulged that he does, in fact, have a full-length project entitled Drunk on the way. As if that weren't enough to get us excited, he also shared the album's lead single "Show You The Way" – an introspective song that boasts guest features from Kenny Loggins and Michael McDonald. If, by some unfortunate circumstance, you happen to be unfamiliar with their illustrious singing/songwriting careers, here's a crash course: Kenny Loggins is the man. Michael McDonald is the man. And if you don't already know that Thundercat is the man, well, you might be a lost cause.
The track serves as a reunion for Loggins and McDonald, who have already proven their amazing musical chemistry with classic hits like "What A Fool Believes" and "This Is It." But what happens when you add Thundercat to the formula? Freakin' magic, that's what. Mellow keys, jazzy percussion, otherworldly synth, funky bass lines and the warmest, smoothest, silkiest trio of vocals you're likely to hear all year. We're not the only ones geeked about the unexpected collaboration. In a recent interview with Red Bull Music Academy, Thundercat confessed, "Kenny Loggins is one of my favorite songwriters...I literally almost peed on myself. I silently freaked out. I was like, 'Okay, sure.' I was like, 'Whaaaaaa… What the hell, man?' There's even more to it. One day Kenny said, 'I hadn't seen Michael in so many years. It's cool that we got the chance to work together again.' For me, I was just like… floored. I didn't know what to say. It was pure happiness, but I was blown away." So are we!
From the little we know so far, we're already convinced that Drunk will be another cosmic display of Bruner's musicianship. In addition to Loggins and McDonald, the expansive 23-track album will also feature cameos by Pharrell, Kendrick Lamar, Wiz Khalifa, Kamasi Washington and Flying Lotus. Plus, it will include "Them Changes" from 2015's The Beyond/Where the Giants Roam and 2016 loosie "Bus In These Streets." Thundercat has also expanded his previously announced world tour (now officially called Drunk World Tour) to include stops at Coachella and in Japan at the end of April. Many dates are already sold out, so you might wanna go ahead and purchase those tix while you can.
In the meantime, listen to "Show You The Way," peep the tracklist for Drunk and pre-order the album ahead of its February 24th release. Though currently on tour, Michael McDonald fans can also hear him featured on "For You" by Brian Owens and The Deacons of Soul. Kenny Loggins recently released a children's book based on his hit "Footloose" and is also on tour.
Thundercat Drunk tracklist:
01. Rabbot Ho
02. Captain Stupido
03. Uh Uh
04. Bus In These Streets
05. A Fan's Mail (Tron Song Suite II)
06. Lava Lamp
07. Jethro
08. Day & Night
09. Show You The Way f. Michael McDonald & Kenny Loggins
10. Walk On By f. Kendrick Lamar
11. Blackkk
12. Tokyo
13. Jameel's Space Ride
14. Friend Zone
15. Them Changes
16. Where I'm Going
17. Drink Dat f. Wiz Khalifa
18. Inferno
19. I Am Crazy
20. 3AM
21. Drunk
22. The Turn Down f. Pharrell
23. DUI

- Advertisement -