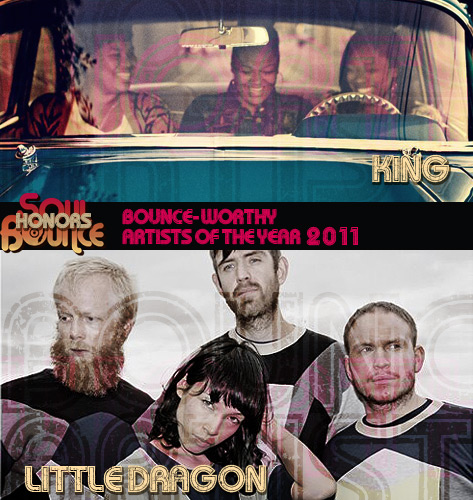 Here at SoulBounce we pride ourselves on our ability to recognize talent in the raw -- those artists who we know are destined for greatness but the rest of the world hasn't caught on yet. I wouldn't call us psychics, but I would consider us tastemakers and that's one of the reasons why we have the "Bounce-Worthy" designation in place to shine a light on those artists who we feel have next. This year two artists in particular -- one a refreshing new trio and one a group who we've been hip to for years -- really stepped their respective games up leading us to choose them as our Bounce-Worthy Artists of the Year:
KING
and
Little Dragon
.
Center
The Queens of KING
Back in February, our good friend and fellow tastemaker Duane Powell from Chicago reached out to SoulBounce about this new group that he was trying to get the word out about. There wasn't much info about the trio made up of sisters Amber and Paris Strother and their friend Anita Bias, but they were armed with a self-produced, three-song EP, The Story, that was scheduled for release on March 1st and a homemade animated music video for the first single also named "The Story." I made haste to check out these three ladies with the unlikely name of KING based on Powell's recommendation as someone whose sound judgment I trust. I was instantly enamored by their airy harmonies and futuristic soundscapes, and I couldn't wait to share with the rest of my SoulBounce family who all fell for them just as hard. SoulUK posted their Bounce-Worthy feature, and we kept it moving with a keen eye out for more.
Then that one fateful night on Twitter happened. March 1st, The Story's release date to be exact. As someone who witnessed the wildfire spread from one tweet to the next from the likes of Phonte to Questlove to Erykah Badu with many other artists and music connoisseurs in between, it was an amazing testament to the power of social media to create a literal overnight sensation. Fast forward a few months and Amber and Paris were tapped by The Foreign Exchange to record "All the Kisses" for Dear Friends, and the group even caught the attention of some guy named Prince who had them open for him on one of his Welcome 2 America Tour dates. That's what their EP got them, and with their LP in the works with a 2012 release hopefully on the horizon, what's up next for the down-to-earth queens of KING is anybody's guess. Although I happen to think that the best is yet to come. -- Butta
When Little Dragon Roared
After 2009's Machine Dreams, I was anxious to see where exactly the Swedish electro-pop-soul act would take us next. I got my answer this year with the trippy, eclectic Ritual Union. Not only did Yukimi Nagano, Håkan Wirenstrand, Erik Bodin, and Fredrik Källgren Wallin take their sound further than ever before, they also one-upped themselves, creating a work that was moody and complex. It was only right that the world would finally take notice of what the little group that could was cooking up.
Then, as if they were answering the collective prayers of their fans, they were collaborating all over the place. Though they'd been no stranger to features before, especially Ms. Nagano, they just seemed to be everywhere this year. There was Yukimi teaming up with SBTRKT for the burner "Wildfire." Listen again and you heard LD on DJ Shadow's "Scale It Back." They became ubiquitous enough that their world tour was selling out venues all over the states, including NYC's Terminal 5 where I had the privilege of seeing them do their thing live for the first time. It was everything I'd thought it could be a even a bit more. Even Questlove, who hosted NY's event, took a seat on the side of the stage to see the group work their mystic magic. Yes, Little Dragon has always been on SoulBounce's radar, but this year the world finally started taking notice. About damn time.
-- D-Money
- Advertisement -