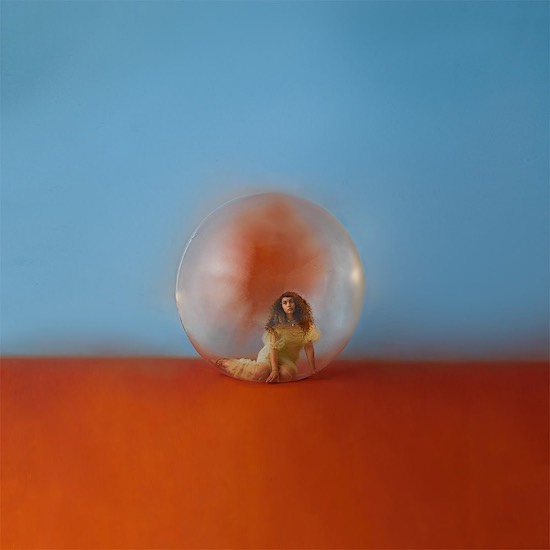 Canadian singer-songwriter Alessia Cara has released her third and most soulful album yet, In The Meantime. A winding trip through different sonic and emotional rooms inside a mansion made of melodies, the album leaves each door cracked for you to give yourself the tour. And what a tour it is! The collection's 18 tracks play more like a modern rap album than an album from an understated pop darling, but Cara and her dream team manage to pull it off in a way that makes you almost forget the length.
Part of this may be the fact that it boasts the most diversified list of producers Cara has worked with. With a cast of expert sound-crafters too numerous to mention all here, Alessia finds herself moving away from production duo Pop & Oak for the first time on an album. As well, she's relinquished self-production in favor of tracks from the likes of Boi-1da, YogiTheProducer, Mike Wise, longtime collaborator Jon Levine and the legendary Salaam Remi – and that's only a third of the contributors.
This addresses one of the issues impacting Cara's reach: Range. In The Meantime finds her returning to a more balanced offering of mid-tempos and the upbeat songs that skyrocketed her debut, 2015's Know-It-All, unlike the slowness of her sophomore album, The Pains Of Growing, which almost came and went in 2018. It also seems that the way singles are chosen from her projects impact general perception. Those who have written her off as bubblegum pop for her hits like "Wild Things" forget that this is the same Def Jam artist who started on urban radio with the gritty hit "Here." It's easy to understand when this album is the first time in six years that we hear her return to that sound with songs like "Fishbowl," the Joel Little-produced "Apartment Song" or the Greg Kurston-produced "Clockwork." Room for improvement in this area still abounds, as the singles released from the album so far – the ballad "Best Days" and even the Salaam Remi-helmed "Shapeshifter" – are not the most catchy or easy to groove to and fail to really showcase the energy of the album. "Sweet Dream" is the single having the most inherent appeal without having to first grow on you.
It's almost criminal to not release songs like the brilliant "Middle Ground" featuring CHIKA in full R&B mode. The two kill it with non-stop contradictory lines about both knowing and not knowing what they want from love. ("I'm not lonely, but I am / But catching feelings makes me sick / I don't need a man and all that jazz / But come to think of butterflies and starry eyes / I don't remember hating it.") Other missed songs screaming to be on the radio are the smooth "I Miss You, Don't Call Me" and the catchy "Find My Boy."
The real beauty here is found in Alessia Cara's vocal and songwriting prowess. Although she also shares writing credit more than she has on any project before, make no mistake, she is still the brains behind the bars. Opting for poetic language, blending relatable references with metaphors and pretty imagery, making it digestible is truly an art.
Songs with tongue-in-cheek lines like, "I'm not even yours anymore / But I deserve an award for getting over you, call the Academy," on "Drama Queen" are contrasted by songs like "Box In The Ocean" with the lyrics, "All these explosive emotions I'm holding / But you'll never know 'em, cause I put 'em in a box in the ocean." Even her decision to write a song like "Sweet Dream," addressing her real-life sleep issues, and make it single-worthy with a clever trappy sample from "Mr. Sandman" is a creative risk. Cara is a factory of ideas, never limiting herself to just songs about relationships, addressing her insecurities regularly.
Never repeating or seeming to run out of melodies is an impressive feat on an 18-track album. Also impressive is to hear that many songs with not one slipping into the trite, toxic themes and profanity-laden style of writing that could easily have her all over TikTok. We'll see if the industry pushes her to change; dramatic reinventions usually happen somewhere before album five. So far, so good.
- Advertisement -
Blame it on her youthful presentation, her tonal and racial ambiguity, the label's single selection or the difference in charts from Canada to the U.S., but the GRAMMY Award-winning virtuoso has yet to get her due from the R&B and soul community, despite oozing soul in every riff and raspy note. At 25, Alessia Cara seems patient enough to wait for everyone to catch up, pouring her heart out In The Meantime.
Alessia Cara In The Meantime [Amazon][Apple Music]
- Advertisement -
- Advertisement -