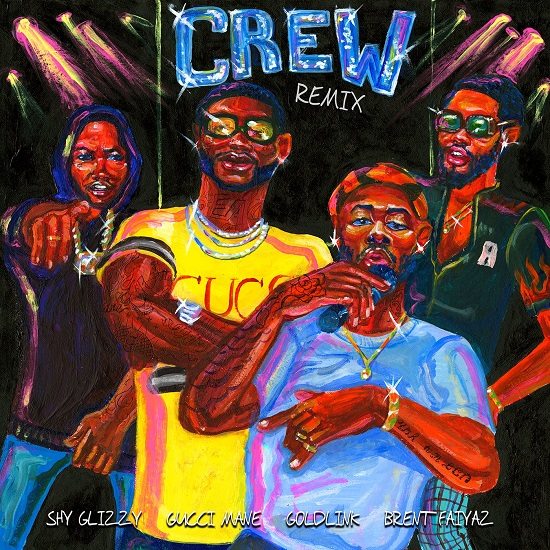 What a time to be GoldLink! The DMV emcee dropped his critically acclaimed official debut album At What Cost at the top of the year and he's set to embark on his headlining At What Cost tour in the fall. Now, as we gear up for what he's going to be bringing on the stage, he hits us with a remix of his jam "Crew" that features East Atlanta Santa Gucci Mane.
Not much changes for the remix, with the laid-back groove composed of looped vocals, synths and hi-hats holding things down and Brent Faiyaz still crooning the chorus. However, GuWop opens up after Brent's vocals fade and, as expected, everything's Gucci. "Don't get mad in this b***h 'cause you too bad for this s**t / How the relationship gon' last if he not having no kids / You need a man, buy you bags, have you bragging and s**t / You need no man without no plan, doing all that nagging and s**t," he pops off. After paying that bit of penance to the song's subject matter, he gets down to what we all know Gucci for, listing off Lambos, minks and ice as the spoils of being next to him. After that, we get the same verses from GoldLink and Shy Glizzy (aka Young Jefe) as the original, with each spitting game and bragging about their prowess while getting a little raunchy with it.
At the end of the day, Gucci's verse wasn't necessarily needed here. However, it does bring a bit of fun to the proceedings and a bit of big name clout for those still in the dark about the talents of GoldLink. Satisfy your curiosity about what a GoldLink and Gucci Mane collab sounds like by checking out the "Crew" remix below.