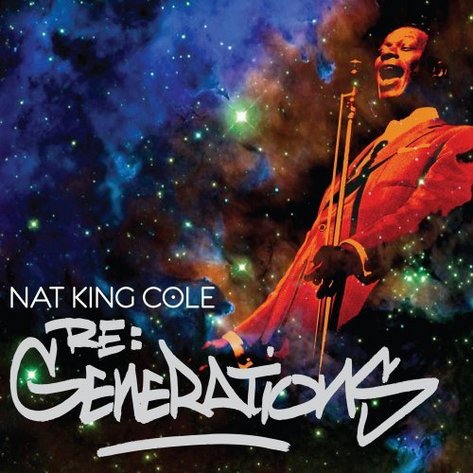 Much respect to
Carole Cole
,
Nat King Cole
's daughter and CEO of King Cole productions for having the intuition to put the
Re: Generations
album together. The album debuts March 10th and consists of Nat King Cole's original recordings blissfully reimagined with such varied collaborators as
Cee-Lo
,
will.I.am
.,
Natalie Cole
,
Nas
,
Stephen and Damian Marley
, and
TV On The Radio
who turn "Nature Boy" into a dark, brooding Electronica track. Simply stated, think of this album as a
Verve Remixed
album of only Nat King Cole's songs. To tell you to pick this up when it drops is an understatement. It will be on heavy rotation on your iPod for months to come, guaranteed. My favorite track that I've heard thus far has got to be "Anytime Anyday Anywhere" produced by the oft-underappreciated
Amp Fiddler
. Listen to the silky smoothness below and peep the tracklist after the bounce.
Nat King Cole feat. Amp Fiddler: "Anytime Anyday Anywhere"
1. Lush Life (feat. Cee-Lo) 
2. Straighten Up and Fly Right (feat. will.i.am & Natalie Cole) 
3. Day In Day Out (feat. 
Cut Chemist
) 
4. Brazilian Love Song (feat. 
Michaelangelo L'Acqua
&
Bebel Gilberto
) 
5. The Game of Love (feat. Nas &
Salaam Remi
) 
6. Walkin' My Baby Back Home (feat. The Roots) 
7. Hit That Jive, Jack (feat. 
Souldiggaz
&
Izza Kizza
) 
8. Calypso Blues (feat. Stephen & Damian Marley) 
9. More and More of Your Amour (feat. 
Bitter:Sweet
) 
10. El Choclo (feat. 
Brazilian Girls
) 
11. Pick-up (feat. 
Just Blaze
) 
12. Anytime Anyday Anywhere (feat. Amp Fiddler) 
13. Nature Boy (feat. TV On The Radio)