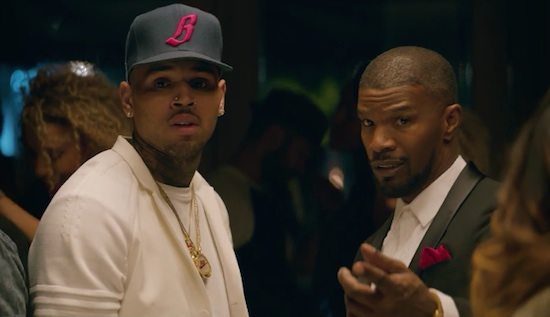 With their rather colorful and eventful relationship histories, Jamie Foxx and Chris Brown aren't exactly the settling down types. However, these two want us to believe that they've each found the respective one to make them hang up their running shoes, turn in their player cards and leave that bachelor life behind with the track "You Changed Me."
The single is the first to get a music video treatment from Foxx's new album with the bloated title, Hollywood: A Story of a Dozen Roses, and the visuals are equally as extra, which is to be expected of artists in this tax bracket. The clip opens with Jamie and Chris kicking it on a veranda at his hillside mansion, enjoying a midday cocktail and conversing about the party that's gonna pop off there that night. They share some man-to-man talk and each admits that there's a special lady who has their interests who'll be stopping through.
After that long intro scene, the music and party finally start. It's already on and popping when Jamie's boo-friend is first to arrive, and it's none other than Boo Boo Kitty Anika from Empire, actress Grace Gealey, who radiates like a young Halle Berry and elicits loving looks from Foxx. They embrace, dance and are quite smitten with each other during Jamie's verse.
When it's Breezy's turn to rock the mic, his pretty young thang turns up on the scene and is ready to get down. The lusty couple steals away from the crowd and tries to find a more private area in Jamie's house to clearly act out some of Brown's more ratchet lyrics.
Foxx and Brown talk a good game on "You Changed Me" and represent for those bros out there who are about that love life -- even if they're just acting.
- Advertisement -