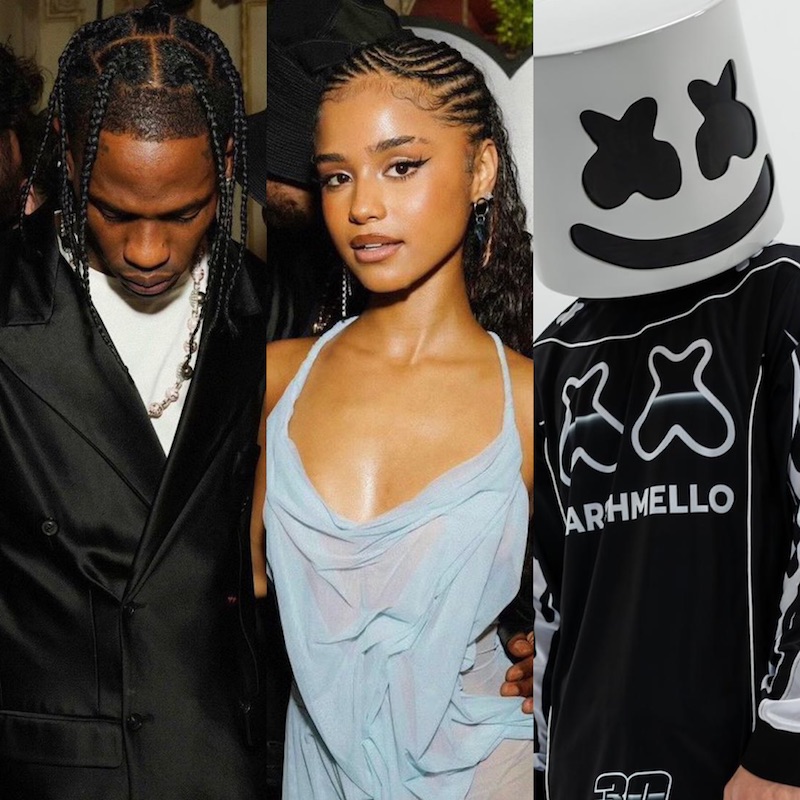 Tyla's profile has certainly risen in recent days. The South African beauty scored her first-ever GRAMMY nomination for Best African Music Performance for her worldwide smash "Water" as the song continues to climb global charts. She is continuing to apply pressure with not one but two official "Water" remixes – the first featuring rapper Travis Scott and the second featuring EDM DJ and producer Marshmello.
For the Travis Scott remix, he adds some Auto-Tuned background vocals to Tyla's intro before getting the whole second verse to himself. "The way that thing move, girl, that waist change / I'm lovin' how it bounce like it got sprangs / I know a couple thangs we can exchange," he raps, still heavy on the Auto-Tune. He tries to match her timing, but his bars are nowhere near as beguiling.
The Marshmello remix, meanwhile, takes "Water" into dance music territory with faster BPMs and the addition of piano, harp and a signature EDM-style beat drop. The song's Amapiano charm is stripped away for a more generic sound.
Travis Scott and Marshmello bring their star power to these "Water" remixes but not much else. The sounds and vibes don't match the energy of the original or elevate the song in any way. To be honest, Trevor Jackson's "Tfix" of "Water," which recently went viral, is more exciting and passionate than either of these two takes. Vedo and Kenyon Dixon have also had their R&B way with the song with much better results than what we hear here.
Bigger names attached to something don't always mean they were the best choice. Travis Scott and Marshmello's fanbases may get put on to Tyla, though, so that's a W for her despite these remixes taking an L.