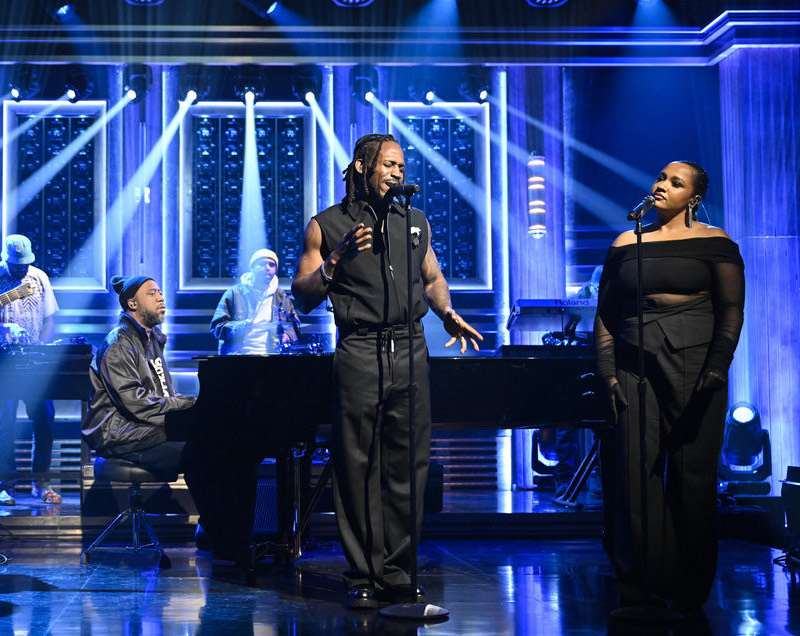 Days after scoring his two latest GRAMMY Award nominations, Robert Glasper returned to The Tonight Show Starring Jimmy Fallon and he brought some special guests with him. Last week Glasper sat in with The Roots, but last night he was centerstage with his band and singers SiR and Alex Isley to perform their twice-nominated song "Back To Love."
The sublime yet lovelorn track taken from the soundtrack to Season 2 of the short-lived STARZ series Run The World is the perfect showcase of everyone's talent. We got to see that in action on The Tonight Show.
The performance began with a lively piano intro by Glasper before he and the band segued into the track's more subdued instrumental. That set the table for SiR and Alex to eat and sing at the same time. SiR mesmerized with his verse before Alex floated in on a cloud to sing hers. They shined individually, but when they came together to sing as the music built to a crescendo, they lit a fire.
Robert Glasper, SiR and Alex Isley's "Back To Love" is up for Best R&B Performance and Best R&B Song at the 66th GRAMMY Awards. We won't find out until February 4, 2024 who emerges victorious, but after this beautiful performance, this trio is leading the pack.