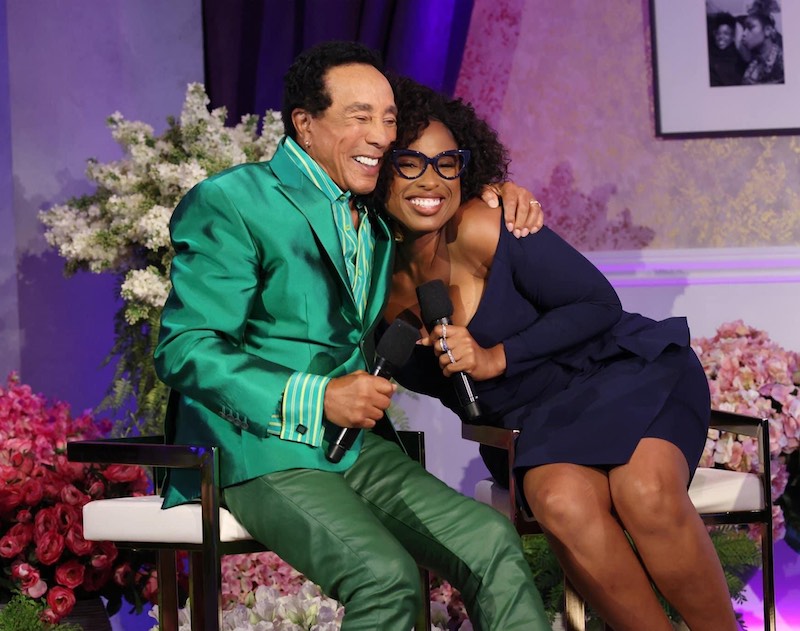 Jennifer Hudson's daytime talk show The Jennifer Hudson Show is now in its second season, despite getting a late start due to the writers' strike. Astute viewers will notice that she's made some updates for her sophomore year. Foremost among them is her exciting new Legend Series, which she kicked off with none other than Smokey Robinson.
One of the things that we loved about the first season of The Jennifer Hudson Show was all of the legendary artists whom JHud welcomed into her "happy place." She had soul and R&B royalty such as Chaka Khan, Patti LaBelle and Stephanie Mills grace her show with their presence as well as contemporary legends like Ledisi, PJ Morton and Lalah Hathaway and future legends like Samara Joy and Coco Jones. With her natural rapport with all of the artists and propensity to join them in song for one-of-a-kind moments, these were the best episodes of the season.
Realizing that this was her sweet spot and she had a good thing going, Jennifer and her producers decided to build on the concept. With that, the Legend Series was created for her to honor those artists who have changed the world with their music and to give them their flowers.
"Musical legends are so special to me because I'm a student of music, and I'm extremely passionate about music," Jennifer Hudson said when introducing the brand-new feature. "This is dedicated to flat-out legends...Those are the shoulders that I stand on."
After showing a brief video chronicling his storied career, JHud welcomed Smokey Robinson as the first guest in the Legend Series. Smokey was dressed to impress in head-to-toe green from his eyes to his shoes and brought Jennifer a huge bouquet of flowers. They talked about when they first met and performed together, and he complimented the EGOT on her pivot.
"I watch you every day, and it's like you've been doing this all your life. You're a natural. You just flow. I'm very proud of you," Smokey said to Jennifer who was beaming by this point. She was able to quickly collect herself to continue with her interview questions. She asked him about the first song he wrote and growing up in the same neighborhood with fellow legends Diana Ross and Aretha Franklin. He gave Jen and her audience a little history lesson about a few iconic groups and how everybody wanted to sing.
Smokey talked about a little bit of everything like taking his granddaughter to see Taylor Swift in concert, how he got the nickname Smokey and his 40-year practice of yoga. The conversation circled back to music, and they discussed his latest album Gasms. Robinson admitted that he gave it that title to shake things up and get some attention, and that definitely worked. He gave JHud a signed copy of the vinyl, which led her to have a gasm of her own.
However, the most exciting moment of the show for Jennifer came when Smokey agreed to sing with her. They walked over to the grand piano where her sidekick Charles Jones was seated and proceeded to duet on The Miracles' classic love song "Ooo Baby Baby." They didn't sing the whole song, but it was enough to make us want a proper Smokey Robinson and Jennifer Hudson duet in the future.
- Advertisement -
Jennifer returned Smokey's kindness for the flowers and vinyl he gifted to her and surprised him with the first Legend Award trophy to cap off the inaugural Legend Series episode. The mutual admiration and love between these two artists is real and a joy to watch, which you can see for yourself below.
There will be lots more to come from The Jennifer Hudson Show's Legend Series this season. The next legend to be honored will be Mariah Carey on the Wednesday, November 15th episode, so check your local listings for when the show airs and set your DVRs, VCRs or other recording devices to make sure that you don't miss it.
- Advertisement -
- Advertisement -