Janet Jackson is taking her Together Again Tour into 2024. The epic tour that began this past April has been extended yet again with the addition of new dates in new locations, including a few international stops.
For the next leg of the Together Again Tour, Janet will cross the Pacific Ocean to perform in Hawaii, the Philippines and Japan. She'll give her Hawaiian fans a diva double-dose when she hits the stage in Honolulu on March 8th and March 9th. Jackson will head to the Philippines from there, with her next show in Manila on March 13th. The final shows of this run will take place in Japan where she's scheduled to perform in Nagoya (March 16th), Osaka (March 17th) and Yokohama (March 20th).
Jan Fam who have their sights set on seeing her in Japan will also get another legendary act as her opener. The duo TLC has been tapped to join Janet for her trio of Japanese concerts.
If you have yet to catch Janet Jackson on her Together Again Tour, there's still time thanks to these additional stops. Get your dollars, pesos and yen together to purchase tickets, which go on sale on November 25th for the Honolulu and Manila shows and on January 13th for the Japan dates. View the fetching flyer and all of the upcoming concert dates below and tap into the Tour page of Janet's website.
With the worldwide demand for Janet Jackson high, the Together Again Tour may very well get extended again, but these six new dates are it...for now, at least.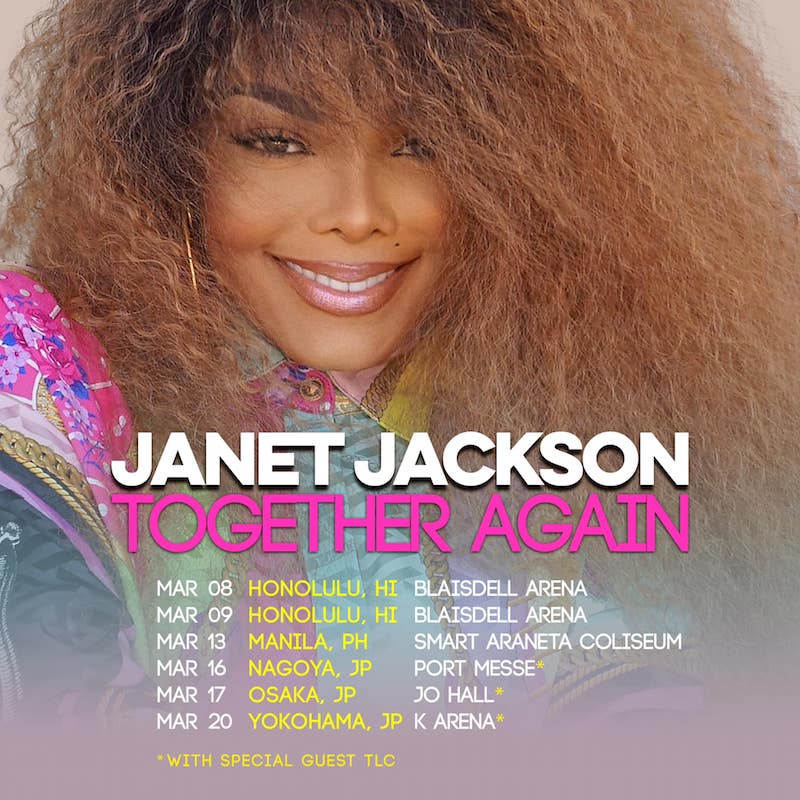 Janet Jackson Together Again Tour 2024 dates:

March 8 - Honolulu, HI - Blaisdell Arena
March 9 - Honolulu, HI - Blaisdell Arena
March 13 - Manila, PH - Smart Araneta Coliseum
March 16 - Nagoya, JP - Port Messe*
March 17 - Osaka, JP - Jo Hall*
March 20 - Yokohama, JP - K Arena*

*TLC Opening