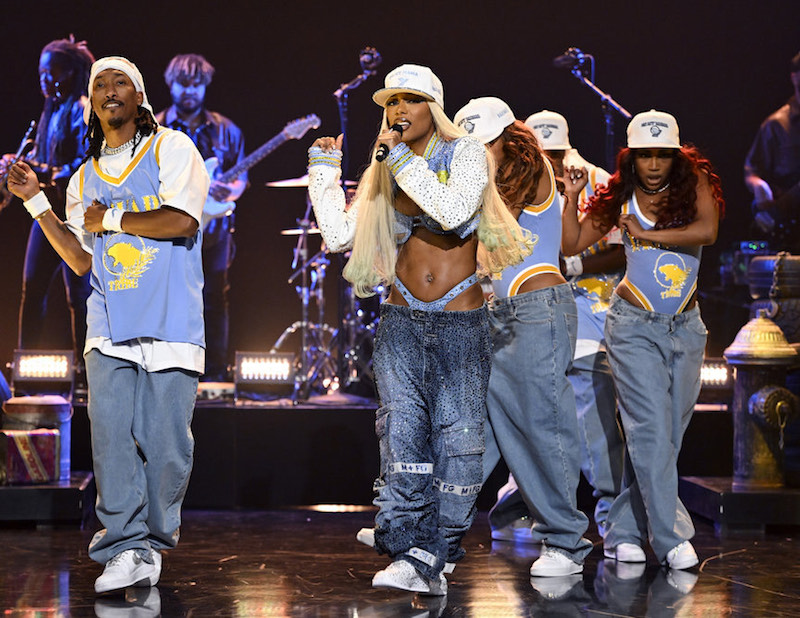 This has been a year full of firsts for Victoria Monét. She raised the bar on R&B with her major label debut album JAGUAR II, and she embarked on her first-ever headlining concert tour The JAGUAR Tour, which sold out across North America in minutes. The multitalented artist just had another first when she made her late-night television debut on The Tonight Show Starring Jimmy Fallon to perform her instant classic "On My Mama."
After an enthusiastic introduction from Jimmy Fallon, all eyes were on Victoria. She greeted the audience as she smoothly strode from one side of the stage to join her four dancers. She looked incredible in a bedazzled hi-cut bikini peeking out from under a cropped letterman jacket and low-rise jeans. Her squad sported coordinating JAGUAR basketball jerseys on the fellas and JAGUAR bathing suits on the ladies in UCLA Bruins colors.
Monét and company got in formation and broke out into the "On My Mama" choreography that she's been doing on her live shows. Victoria brought her high energy, live vocals, coordinated moves, fly wardrobe and stunning looks to this star-making performance. Victoria Monét didn't just eat that up, she feasted!
Vic is in the home stretch of The JAGUAR Tour with only a handful of dates left. Whether you got the opportunity to see her live or if you weren't lucky enough to snag a ticket before they got snatched up, watching her slay The Tonight Show is the next best thing. Press play and prepare to be amazed below.