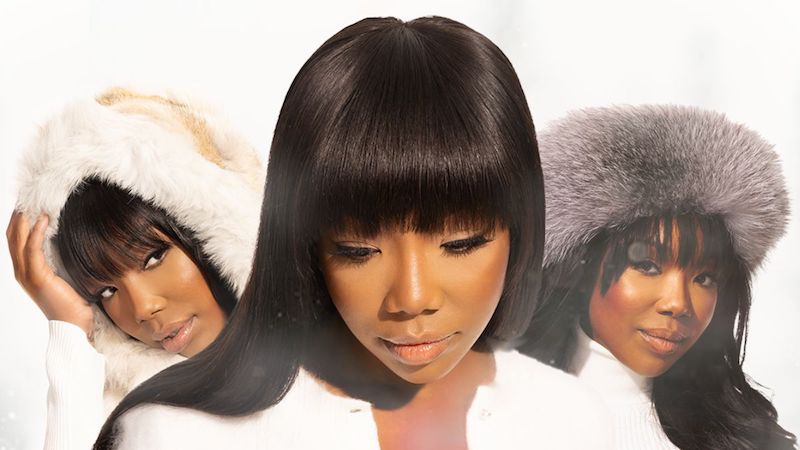 Brandy is ending 2023 on a high note and gifting fans with new music. After sharing her seventh album B7 in 2020, her first release on Motown Records since signing with the label last year will be a holiday album entitled Christmas With Brandy. Thankfully, we don't have to wait until Christmas to receive it, with the festive collection scheduled for release on Friday, November 10th.
Christmas With Brandy will feature a total of 12 tracks and showcase a mix of holiday classics and original numbers that are sure to become classics once the Vocal Bible does what she does. The beloved songstress is slated to cover favorites such as "Have Yourself A Merry Little Christmas," "Santa Baby," "The Christmas Song," "Jingle Bells," "Deck The Halls" and Stevie Wonder's "Someday At Christmas."
The originals that Brandy is contributing to the catalog of Christmas songs are the tracks "Feels Different," "Somebody's Waiting," "Christmas Party For Two," "Shine Out Your Light," "Christmas Everyday" and "Christmas Gift," which will be a duet with her daughter Sy'Rai.
Brandy shared a sneak peek to her socials of a photo shoot for the album with one of her new Xmas tunes playing in the background. She looks gorgeous in a number of glam winter white looks with festive pops of color and sparkle. She accompanied the teaser with a heartfelt message. "I feel so blessed to be able to create an album surrounding joy, family, love and quality divine time with the ones you love," she wrote in the caption.
The release of Christmas With Brandy precedes her Christmas flick Best. Christmas. Ever!, a Netflix original film that will premiere on Thursday, November 16th. Brandy co-stars with Heather Graham in the highly-anticipated holiday comedy.
We look forward to spending Christmas With Brandy this holiday season and for many more to come. View the album's cover art and full tracklist below. The project is currently available for pre-save/pre-order from various digital music platforms. Fans who want a physical product for gift-giving purposes can pre-order the album on CD or vinyl directly from Brandy's webstore.
Brandy Christmas With Brandy tracklist:

1. Feels Different
2. Somebody's Waiting
3. Christmas Party for Two
4. Have Yourself a Merry Little Christmas
5. Santa Baby
6. Christmas Gift feat. Sy'Rai
7. Shine Out Your Light
8. The Christmas Song
9. Someday At Christmas
10. Jingle Bells
11. Deck The Halls
12. Christmas Everyday
- Advertisement -