Are you ready for more Usher? If so, you're in luck because there's so much more on the way in 2024. The de facto King Of R&B hit fans with a double whammy of big news this weekend to let us know that he'll extend his chokehold on us into the new year. Usher has finally announced the arrival of his new album – now entitled Coming Home – on Sunday, February 11, 2024, the same day that he will headline the Super Bowl LVIII Halftime Show.
Coming Home will be Usher's ninth LP and first new release since 2018's "A," his joint project with Zaytoven. Led by the singles "Good Good" featuring Summer Walker and 21 Savage and "Boyfriend," the highly-anticipated album will be his first on his new venture mega, the music collective he created in association with longtime friend L.A. Reid, and will be released in partnership with gamma., a modern media and technology platform.
Ursh posted the album cover to his socials and sent fans into a frenzy. The cover image consists of a shot of his back, a few iced-out chains around his neck with a diamond and pearl-encrusted cross hanging from one of them and him holding a ripe peach over his shoulder. With this image, we get the sense that Usher will be taking us full circle with a nod to his past and Atlanta on this upcoming project. He gave some insight to Zane Lowe during a new interview on Apple Music.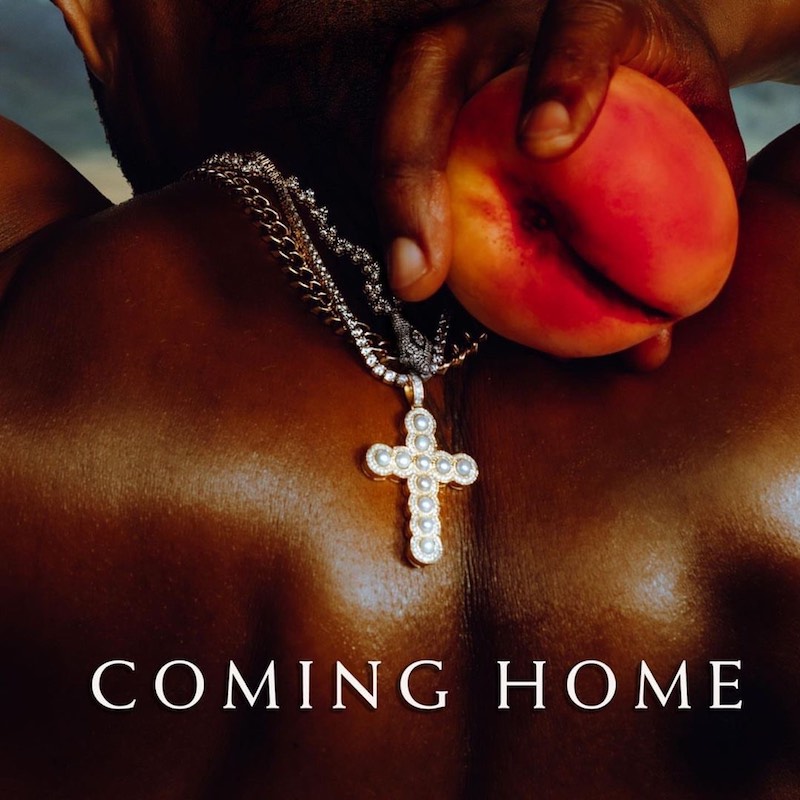 "It's a love letter once again to the legacy of my career. I've been coming home in a lot of different ways," he shared with Lowe. "In a sense, I'm coming home because I'm in that comfortable space...I'm back home with my team."
Usher and Zane also spoke about the 20th anniversary of Confessions, which is also coming up in 2024. It's long been said that his next album would be titled Confessions II, but the superstar singer didn't share any update about the status of that project. There's no indication if Confessions II was scrapped altogether or if it eventually became Coming Home, so anyone who's been patiently waiting for Confessions II will have to wait a little longer or, quite possibly, forever.
We only have to wait until Super Bowl Sunday to hear Coming Home, however. The album will drop simultaneously with Usher performing during the Super Bowl LVIII Halftime Show sponsored by Apple Music. The 2023-24 NFL season may have just started, but we're already looking forward to the big game that will take place in Allegiant Stadium in Las Vegas next February.
The rollout for Usher's Super Bowl news was quite creative and clever. A collection of vignettes dropped on social media that combined Usher's scene from the beginning of the original "Confessions" video with the appearance of phone conversations with Kim Kardashian, Deion Sanders, Odell Beckham Jr., Marshawn Lynch and even present-day Usher who calls his younger self from the future. It's all pretty genius.
The bar is set high for Usher's halftime show after recent halftime extravaganzas by Rihanna and Dr. Dre and Mary J. Blige during the past two Super Bowls. If anyone is up for this challenge, though, it's Usher, and he is beyond ready to check this off of his bucket list.
- Advertisement -
Super Bowl LVIII and the Super Bowl LVIII Apple Music Halftime Show starring Usher will be televised on CBS and streamed on Paramount+ on Sunday, February 21st. As far as Coming Home, the album is currently available for pre-add on Apple Music and pre-order on iTunes. Look out for more singles and videos from the LP in the coming months as Usher completes his Las Vegas residency and ramps up the rollout for this album.
- Advertisement -