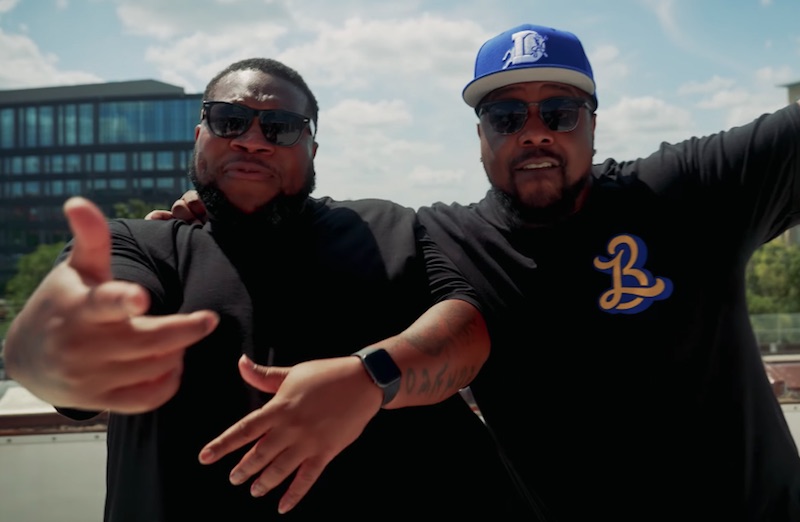 When Little Brother released their reunion album May The Lord Watch in 2019, hip-hop heads rejoiced at Phonte and Rapper Big Pooh's return. The group was back together for good, and all was right in the world. Then 2020 hit, and the world got rocked. The fellas decided to lay relatively low during the pandemic, and they put their energy into working on a Little Brother documentary and preparing for the 20th anniversary of their debut album The Listening this year. Little did we know that they were also cooking up some new music in the studio. Little Brother drops two bombs on us with the double single "Wish Me Well" and "Glory Glory."
Little Brother delivers over five minutes of fire between "Wish Me Well" and "Glory Glory." Deonis "Pumah" Cook is the producer behind "Wish Me Well," and he samples himself, chopping up his 2011 song "Ecstasy" for the track. The soulful foundation is just what Pooh and Tay need to flow fantastic and drop some of the best bars we've heard all year as they pass the mic back and forth. When Phonte spits the lyric, "Made my first record on a OK computer / 'Cause I saw where the radio was headed," you'll want to pause the song just to marvel at his brilliance.
They continue rocking the mic right on "Glory Glory" over another soulful production by Conductor Williams. Rapper Big Pooh sets it off with his verse, letting it be known that, "We still letting rounds off," to anyone who may wonder if they've still got it. Phonte snaps on his closing verse, ending the track with mic-dropping lyrics, "Leave me alone, ring the alarm and tell the vultures / Stay the f**k out the garden if you gon' whore the culture."
"We hear and see the requests for new music. We felt it was time. Time to show our minds are still sharp and we're only getting sharper," Rapper Big Pooh stated in a press release about the one-two punch of "Wish Me Well" and "Glory Glory."
"We wanted to bless our fans with new music to show them we're not leaning on nostalgia," Phonte chimed in. "After 20 years in the game, we're still hungry and actively working to improve our craft."
With 20 years behind them, Little Brother keeps showing up and leveling up. Sounding as good as they do on these tracks, it's not hyperbole to say that their best may just be yet to come.
For even more Little Brother, join them at their upcoming Made In Durham block party on Saturday, October 7th in Durham, North Carolina. LB will take it back to where it all began for them during this day-long celebration filled with music and live performances by Zo! & Tall Black Guy, The Cool Kids, Big K.R.I.T. and, of course, themselves. The fête will be hosted by comedian Sam Jay and DJ Hourglass and DJ Wally Sparks will move the crowd at the brand-new venue Missy Lane's Assembly Room. Tickets are available now on Little Brother's website.
Get ready for a time to be had at Made In Durham. Before then, allow Little Brother to impress you with "Wish Me Well" and "Glory Glory," available on all digital streaming platforms. Listen to both tracks below, and stick around to watch Phonte and Rapper Big Pooh rock a rooftop and outshine the sun in the "Wish Me Well" video.
- Advertisement -
- Advertisement -