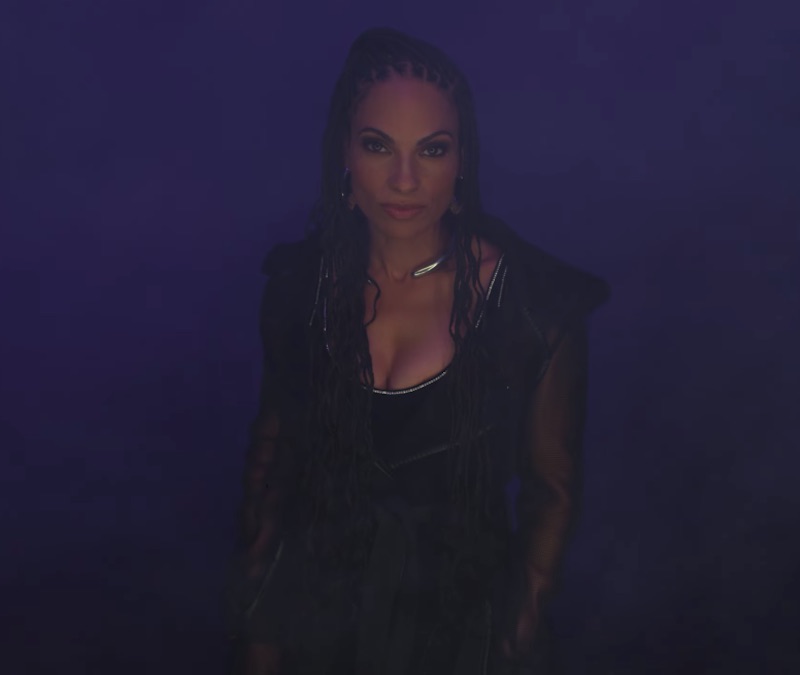 It's no question that Goapele has some pretty sexy songs in her catalog. "Romantic," "Play" and "$ecret" immediately come to mind when reminiscing about her past work. She now has something new to add to the list with her current single "PURPLE." The song already has us fanning ourselves from the heat emanating from our speakers, and the songstress turns up the flames with the music video co-starring Omari Hardwick.
Goapele and Omari smolder on screen in the Damien Sandoval-directed visual. Sandoval plays with light, color, shadows, smoke and water to create a mood that matches the song's passionate energy without being overtly sexual.
The chemistry between the real-life friends is palpable in their scenes together, and when they're apart their desire is conveyed by their movements around the set. Scenes of Goapele singing into the camera or Omari walking in slow motion and shredding on an electric guitar drip with sensuality. Sparks really fly when the attractive duo share screen time, though, and get engulfed in a purple haze of smoke. When they finally embrace and share a kiss, the intimate moment is a satisfying conclusion. However, Goapele, Hardwick and Sandoval aren't done with us just yet.
The ending of the "PURPLE" visual segues into the beginning of a second music video for a brand-new, unreleased song. We see Goapele and Omari on a vibrant set and outdoors. They play a couple sharing romantic moments and enjoying themselves while we hear her sing, "Time stands still whenever we spend time together." This part of the visual ends with them in another embrace while they stare into a sunset.
Goapele has us intrigued and excited for what's to come on her upcoming album COLOURS. Between "Time Heals," "PURPLE" and this mystery song, we are sold. While we patiently wait for a release date, let Goapele and Omari Hardwick get you hot and bothered when you watch "PURPLE" right here.