Eric Roberson is gearing up to get back on the road this fall. The comedic crooner is taking his talents and all his songs from "The Moon" to "I Apologize" to a city near you on the Chasing A Feeling Tour.
The 18-date tour will pop up in eight cities across the U.S. between October to December. The first concert happens on October 6th in NYC at Sony Hall, and it will be a special show in celebration of Eric's 50th birthday, which was on September 26th.
After his 50th bday festivities, he'll make it to Atlanta, Philadelphia and Chicago, where he is scheduled to perform at City Winery venues in those respective locations. Fans in each of those places will get to enjoy Eric for multiple nights, giving people ample opportunities to see him live on stage.
Additional cities on his itinerary include Southampton, Massachusetts and Ohio stops in Cleveland and Cincinnati. The Chasing A Feeling Tour will end on the West Coast with a two-night stand in Oakland at Yoshi's.
Erro live in concert is always a good time whether you're a hardcore fan, a casual listener or tardy to his party. If you know, you know. If you don't know, however, run – don't walk – to catch him on this tour and prepare to be impressed and entertained. Take it from us, we've seen him live multiple times in multiple cities and each show is a treasure.
View the Chasing A Feeling Tour flyer and the complete list of tour dates below. When you're ready to buy tickets, mosey on over to Eric Roberson's website to purchase.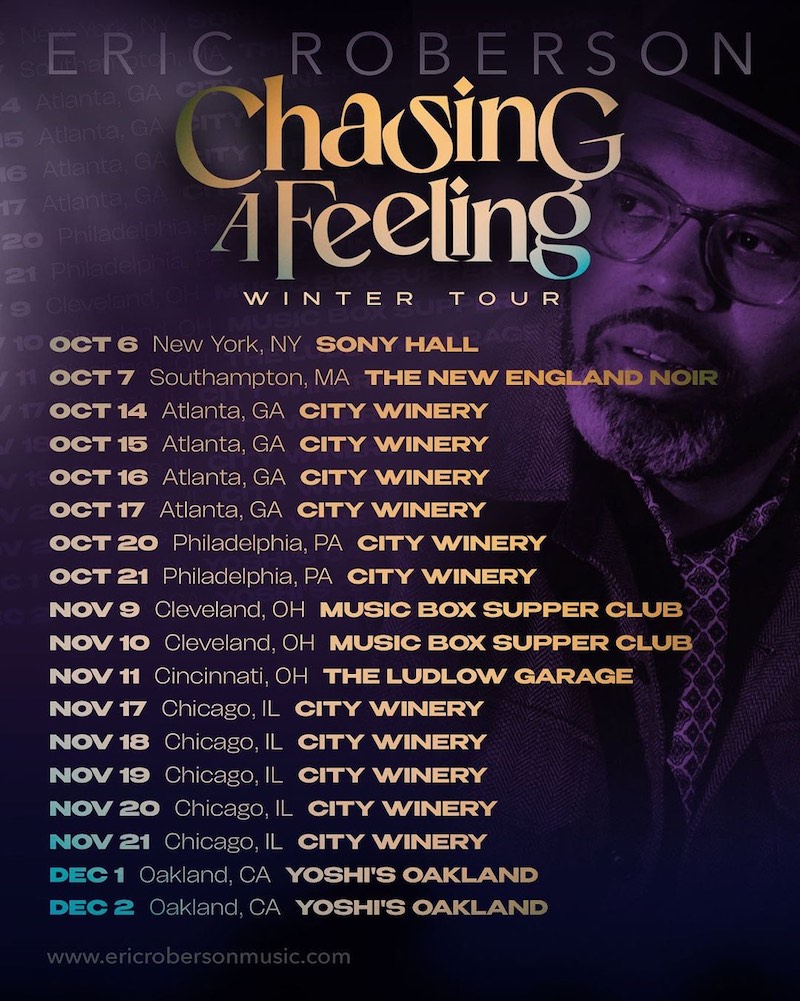 Eric Roberson Chasing A Feeling Tour dates:

October 6th – New York, NY – Sony Hall
October 7th – Southampton, MA – The New England Noir
October 14th – Atlanta, GA – City Winery Atlanta
October 15th – Atlanta, GA – City Winery Atlanta
October 16th – Atlanta, GA – City Winery Atlanta
October 17th – Atlanta, GA – City Winery Atlanta
October 20th – Philadelphia, PA – City Winery Philadelphia
October 21st – Philadelphia, PA – City Winery Philadelphia
November 9th – Cleveland, OH – Music Box Supper Club
November 10th – Cleveland, OH – Music Box Supper Club
November 11th – Cincinnati, OH – The Ludlow Garage
November 17th – Chicago, IL – City Winery Chicago
November 18th – Chicago, IL – City Winery Chicago
November 19th – Chicago, IL – City Winery Chicago
November 20th – Chicago, IL – City Winery Chicago
November 21st – Chicago, IL – City Winery Chicago
December 1st – Oakland, CA – Yoshi's Oakland
December 2nd – Oakland, CA – Yoshi's Oakland
- Advertisement -