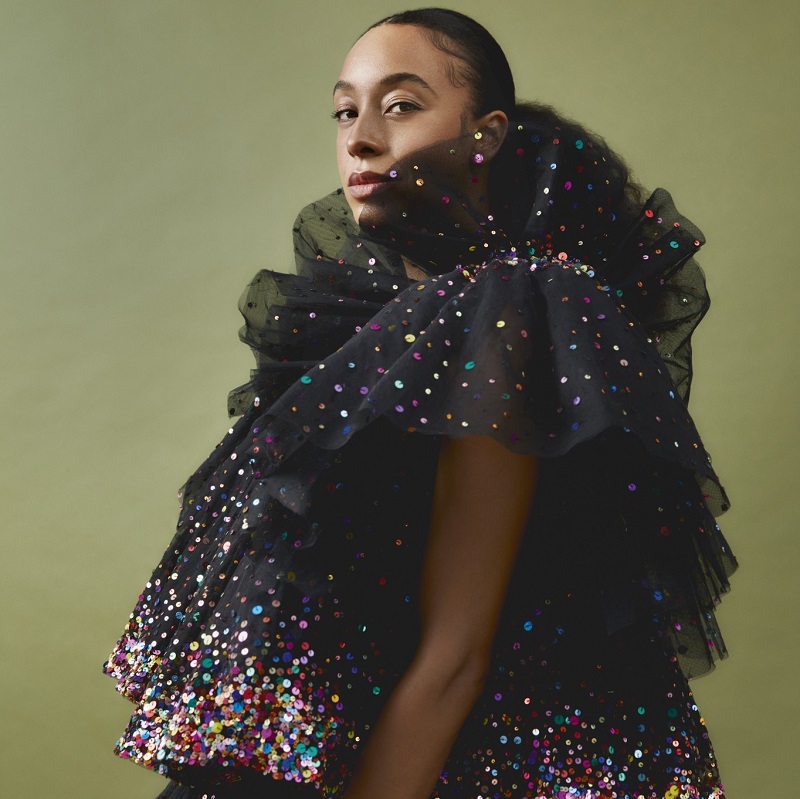 When we think of Corinne Bailey Rae, we think of lovely lyrics, feel-good harmonies and soulful arrangements. What doesn't cross our minds are screaming electric guitars, headbanging drums and punk rock sensibilities. That's exactly what we get, however, with the singer-songwriter trying a different style on her newest single, "New York Transit Queen."
Corinne trades in her subdued, heart-on-her-sleeve balladry for raucous, rebellious chanting as she tells the story of a savvy young woman who knows her way around the Big Apple. The lyrics here are much simpler (the majority of the just-under-two-minute song is just Corinne chanting the song's title amid hand claps, chaotic drums and buzz-sawing electric guitars). The idea of the song is still there, especially as the singer praises the song's subject by calling her a "heroine."
"New York Transit Queen" also heralds the pending arrival of Corinne Bailey Rae's upcoming album Black Rainbows on September 15th.
"This is an album that is extremely special to me, as it is inspired by the objects and artworks collected by [Theaster Gates] at the Stony Island Arts Bank in Chicago," she wrote on Instagram about the new project. "This project includes a collection of 10 songs, an accompanying hardcover book, Reflections/Refractions at The Stony Island Arts Bank, containing images shot by world renowned photographer [Koto Bolofo], plus live performances, lectures and exhibitions throughout the Black Rainbows Tour that will take place this Fall."
Looks like we'll be seeing many more facets of Corinne Bailey Rae in the coming months. Listen to a stream of "New York Transit Queen" right here. After you're done experiencing a whole new side of the singer, watch the trailer for the song's upcoming video, peep the Black Rainbows cover art and catch a list of Corinne's upcoming tour dates — tickets for which can be purchased via her website.
Corinne Bailey Rae 2023 Tour Dates:

June 24: Exeter, UK Sandy Park Stadium
July 7: Rotterdam, Netherlands North Sea Jazz Festival
September 5: Long Island, NY Staller Center for the Arts at Stony Brook University
September 6: Washington, D.C. Lincoln Theatre
September 8: Philadelphia, PA Theatre of Living Arts
September 9: New Haven, CT Schwarzman Center at Yale University
September 10: New York, NY The National Jazz Museum in Harlem
September 12: Cincinnati, OH Memorial Hall
September 14: Chicago, IL Rockefeller Memorial Chapel at University of Chicago
September 17: Nashville, TN CMA Theater
September 19: Charleston, SC Charleston Music Hall
September 20: Durham, NC Carolina Theatre
September 22: Sugar Hill, GA The Eagle Theatre at Sugar Hill
September 24: Birmingham, AL Alys Stephens Center at University of Alabama
September 26: New Orleans, LA Orpheum Theater
September 29: Austin, TX The Paramount Theatre
October 1: Houston, TX Stafford Centre
October 3:Dallas, TX Texas Theatre
October 5: Santa Fe, NM Lensic Performing Arts Center
October 7: Marfa, TX Saint George Hall
October 25-28: London, United Kingdom Ladbroke Hall
November 1: Barcelona, Spain Studio P62
November 3: Seville, Spain Cartuja Centre
- Advertisement -